Comics / Comic Reviews / More Comics
Chaos Campus: Sorority Girls vs. Zombies #22
By Leroy Douresseaux
April 23, 2018 - 13:02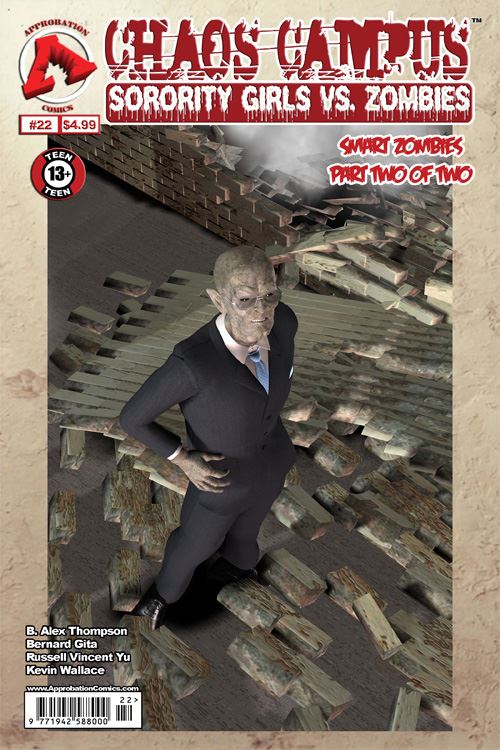 Chaos Campus: Sorority Girls vs. Zombies #22 cover image
Rated: Teen 13+

Chaos Campus: Sorority Girls vs. Zombies created by B. Alex Thompson

"Smart Zombies, Part 2 of 2"
Chaos Campus: Sorority Girls vs. Zombies
is a long-running horror-comedy and zombie apocalypse comic book series. It is created by
B. Alex Thompson
and published by his company, Approbation Comics. The series is set during a zombie invasion and follows the adventures of three members of the sorority, Epsilon Alpha Zeta Upsilon (EAZY): ass-kickin'
Jaime Schaeffer
, brainy
Paige Patton
, and sexy
Brittany Miller
.
The current story line is "Smart Zombies," which is set at a luxury hotel where a group of scientists hide a major secret. This story is written by B. Alex Thompson; drawn by Bernard Gita and Luis Arellano; colored by Russell Vincent Yu and Alex Rayne; and lettered by Elisa M. Coletti.
Chaos Campus: Sorority Girls vs. Zombies

#22
finds our intrepid trio meeting a talking zombie! His name is Lucian and he maintained his intelligence through the process of death and zombie resurrection. Jamie detests Lucian, but Paige is willing to hear what he has to say. Also, the girls find that not all the scientists want them around, although one male scientist wants to... turn the page... so to speak. Meanwhile, Lucian tests the limits of weird science and plots a new apocalypse.
THE LOWDOWN:
It has been at least three years since I last read an issue of the main Chaos Campus series, although I did read the special issue, Chaos Campus: Extra Credit #6. In the years since I first read an Approbation Comics title (Amour #1 in October 2007), I have noticed that B. Alex Thompson has become a stronger comic book writer and that has served Chaos Campus quite well.
The series, which tends to spoof just about every corner of American pop culture, still throws in a reference, here and there. However, Chaos Campus has become a highly-polished horror comics gem. The dialogue is sharp, and the action and drama are solidly constructed and written. Thompson is also quite good at writing single-issue and two-issue stories. I also think that Lucian looks to be a good, long-term adversary of our chaotic heroines.
So zombie fans should apply for admission to Chaos Campus; it is actually easy to start reading this comic book. You can enter at practically any point in the series.
POSSIBLE AUDIENCE:
Fans of Sam Raimi's "Evil Dead" franchise will want to try
Chaos Campus: Sorority Girls vs. Zombies
.
A-
www.ApprobationComics.com
www.AlexThompsonWriter.com
Rating: A- /10
Last Updated: January 24, 2022 - 11:00