Comics / Spotlight / Black Astronaut
Chaos Campus: Sorority Girls vs. Zombies #5
By Leroy Douresseaux
Nov 24, 2009 - 12:09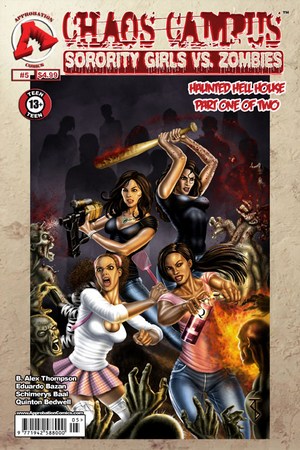 Chaos Campus Sorority Girls vs. Zombies #5 cover image
Chaos Campus Sorority Girls vs. Zombies stars three young women battling for their lives in the early days of a zombie apocalypse. On the night of the volleyball tournament between the sorority, Epsilon Alpha Zeta Upsilon (EAZY) and its partner, Alpha Zeta Zeta, zombies invade the EAZY sorority house. Three EAZY girls: Jaime Schaeffer, Paige Patton, and Brittany Miller are separated from their sorority sisters. They prove to be resourceful young women who, in spite of their bickering, work as a group to survive.
As Chaos Campus Sorority Girls vs. Zombies #5 begins, the girls take refuge from a zombie horde within an abandoned house, with dawn only a few hours away. To their delightful surprise, the survivors of the Alpha Zeta Zeta sorority are doing the same, but the sistahs of A.Z.Z. aren't so happy to see them. But this emotional and contentious reunion has to be put on hold! Two adversaries, the massive and muscular slasher Kurtis Kasey and aggressive demonic spirits, have taken up residence in the house, and both evil forces want to kill.
THE LOWDOWN: Funny, witty, sarcastic, and filled with pop culture references, Chaos Campus Sorority Girls vs. Zombies #5 is a highlight issue in this (sadly) little known comic horror series. Writer Bart A. Thompson riffs on Black people in horror films in a way that is funny – in a pop culture sense, but also slyly subversive in the way of social commentary. Thompson offers some tart jokes on the varied shades of Black people's complexions that bite today as much as it did over 20 years ago in Spike Lee's School Daze.
POSSIBLE AUDIENCE: For readers who like horror comedies with sharp, smart writing.
A-
Last Updated: Jun 26, 2018 - 9:28