Case Closed: Volume 50 manga review
By Leroy Douresseaux
April 11, 2014 - 16:51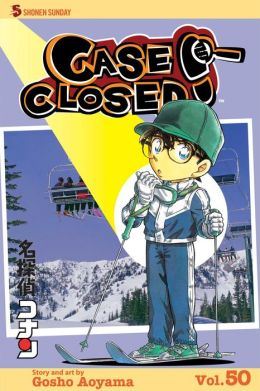 Case Closed Volume 50 cover image is courtesy of barnesandnoble.com.
Rated "T+" for "Older Teen"
Ace high school detective, Jimmy Kudo, is hot on the trail of the men in black known as Gin and Vodka. The nefarious duo attacks the teen and administers to him a mysterious substance that physically transforms the young detective into a first grader. While searching for a cure, Jimmy adopts a new identity as elementary school student, Conan Edogawa. Acting alone and sometimes with his friends, the Junior Detective League (JDL), Jimmy/Conan continues to solve criminal cases and mysteries.
As Case Closed, Vol. 50 opens, Conan is dining out with Richard Moore (the Sleeping Detective) and his daughter, Rachel (who is Jimmy's girlfriend). The trio meets Detectives Chiba and Takagi, who have arrived for a single's mixer at the restaurant. This get-together for single young men and women, however, soon turns into a child kidnapping case and another mystery for Conan to solve.
Next, freelance writer Masato Sugimori wants to interview the Junior Detective League and approaches teacher, Ms. Kobayashi, to set up the interview. Some of the JDL members are quite excited about the chance to be interviewed. What they don't know is that they will soon have a chance to show off the skills and talents that earned them media attention when they discover a murder scene.
THE LOWDOWN: I usually qualify my reviews of the Case Closed manga (known as Detective Conan in Japan) by reminding readers that it is one of my favorite manga. In fact, Cased Closed is one of my all-time favorite comics.
Case Closed Volume 50 features some of the characters and situations that make Case Closed so good. Readers get to see Conan Edogawa manipulate and manage Richard Moore and his daughter Rachel, in a fun story that does not involve murder. We get to see the JDL in action, and that's always fun – making me wish they had their own comic book. Finally, we get the beginning chapters of a flashback story involving an early competition between Jimmy Kudo and Harley Hartwell, the "other" great teen detective in Japan. Case closed; this manga is good stuff.
POSSIBLE AUDIENCE: Readers looking for fun mystery fiction must choose the "Shonen Sunday" detective manga, Case Closed.
Rating: A+ /10
Last Updated: February 5, 2023 - 09:06