Case Closed: Volume 49
By Leroy Douresseaux
January 15, 2014 - 17:00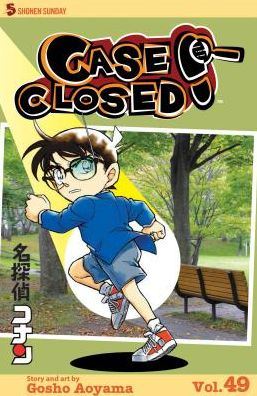 Case Closed Volume 49 cover image is courtesy of barnesandnoble.com.
Rated "T+" for "Older Teen"
Jimmy Kudo, the ace high school detective, is hot on trail of two men in black (Gin and Vodka). Attacking the teen, this nefarious duo administers to him a mysterious substance that physically transforms the young detective into a first grader. While searching for a cure, Jimmy adopts a new identity, that of elementary school student, Conan Edogawa. Acting alone and sometimes with his friends, the Junior Detective League (JDL), Jimmy/Conan continues to solve criminal cases and mysteries.
As Case Closed, Vol. 49 opens, Conan and Anita Hailey (another adult in a child's body) have figured out that rising political star, Yasuteru Domon, is the target of the men in black. Now, it will take more than just detecting skills to stop an assassination attempt.
Then, JDL member, Mitch Tennison, asks his mates to help him search for a missing classmate, a girl named Shoko Amemiya. But Shoko's new homeroom teacher, Bungo Hirayama, shadows the young detectives' every move and is acting strangely. Then, Conan and Richard Moore, the Sleeping Detective, tackle the mystery of a young man's missing girlfriend. However, two young oafs insert themselves into the case. One is Eisuke Hondo, a big fan of Moore's. The other is Yamamura, a young bumbling detective with the Gunma Police; he is also known as Moore's "greatest sidekick," much to Moore's chagrin.
THE LOWDOWN: I have said that the Case Closed manga (known as Detective Conan in Japan) is one of my favorite comic books. I'll be more accurate and say that it is one of my all-time favorites, and it is just as good as any other mystery or detective comic that I've ever read.
Case Closed Volume 49 is a special volume of the series. Regular readers and fans will delight as Conan faces off against the mysterious men in black – the organization responsible for his and Anita's predicaments. New and recent readers will be happy to learn that Vol. 49 contains a Detective Conan character guide, included as a celebration of the series' 500th chapter. This one is a must-have/keeper.
POSSIBLE AUDIENCE: It's a case closed for readers looking for fun mystery fiction when they choose the "Shonen Sunday" detective manga, Case Closed.
Rating: A+ /10
Last Updated: August 31, 2023 - 08:12