Case Closed: Volume 48 manga review
By Leroy Douresseaux
October 17, 2013 - 16:44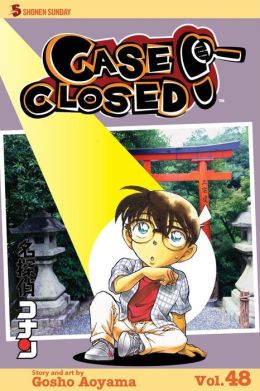 Case Closed Volume 48 cover image is courtesy of barnesandnoble.com.
Rated "T+" for "Older Teen"
Ace high school detective Jimmy Kudo is hot on the trail of Gin and Vodka, two men in black. Attacking him from behind, the nefarious duo administer to Jimmy a mysterious substance that physically transforms the young detective into a first grader. While searching for a cure, Jimmy adopts a new identity, that of elementary school student, Conan Edogawa. Acting alone and sometimes with his friends, the Junior Detective League (JDL), Jimmy/Conan continues to solve criminal cases and mysteries.
As Case Closed, Vol. 48 opens, Conan and the JDL are trying to solve a riddle concocted by Dr. Herschel Agasa and Anita Haley. Solve it, and they find treasure. Conan, however, finds himself doing double riddle-solving duty when he tries to help Rachel Moore and Serena solve a murder... before they end up murdered.
Next up, Richard Moore, the Sleeping Detective, joins Conan and Rachel (his daughter) in "The House of the Evil Spirit," after a wealthy man is apparently killed by a revenge-seeking ghost. Even if the ghost is not real, the threat of murder is. Finally, it's the return of the men in black.
THE LOWDOWN: One of my favorite comics books is the Case Closed manga (known as Detective Conan in Japan), but, as reviewer, I have nothing new to say in praise of it. Not only is it mystery fiction in comics form, but it is also one of the great detective comic books of all time. And the whodunit fool in me loves it.
I think many other readers would love Case Closed, if they got a chance to read it. The "vengeful ghost" story in Case Closed Volume 48 is a thrilling read that had me racing through the pages. Hey, this is a great manga. Case closed.
POSSIBLE AUDIENCE: Readers looking for fun mystery fiction can find it in the "Shonen Sunday" detective manga, Case Closed.
Rating: A+ /10
Last Updated: August 31, 2023 - 08:12