Case Closed: Volume 45 manga review
By Leroy Douresseaux
January 10, 2013 - 23:14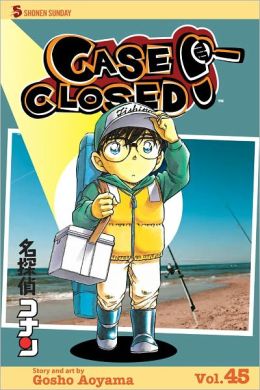 Case Closed Volume 45 cover image is courtesy of barnesandnoble.com.
Rated "T+" for "Older Teen"
Jimmy Kudo, the ace high school detective, is hot on the trail of Gin and Vodka, two nefarious men in black. After the two men attack Kudo from behind, they administer a mysterious substance that physically transforms the young detective into a first grader. While searching for a cure, Jimmy adopts a new identity, that of elementary school student, Conan Edogawa. Acting alone and sometimes with his friends, the Junior Detective League (JDL), Jimmy/Conan continues to solve criminal cases and mysteries.
As Case Closed, Vol. 45 opens, Conan, Rachel Moore, and her friend, Serena, solve the mystery of the high school haunting. Hideaki Hosaka committed suicide at school two years earlier; now, his ghost is haunting his former high school. But there is more to the story, and Conan is determined to find out what that is.
The Junior Detective League decides to take a relaxing fishing trip, but the young sleuths catch a case instead of fish. It's a locked room murder on the open sea. Next, Richard Moore, "the Sleeping Detective," joins Conan to solve the murder of baseball player, Tochizo Nose. After the star relief pitcher's body is found on the side of the road, Conan must go out of his way to find the tricky killer. The JDL and Dr. Herschel Agasa visit a little hostel in the Gunma Mountains to see the astronomical sights. What they find is murder – old and new.
THE LOWDOWN: The Case Closed manga (known as Detective Conan in Japan) is mystery fiction in comics form. It is "steady as she goes" for this reliable detective and whodunit series, but creator Gosho Aoyama often offers a twist on a familiar plot and a twirl in the way cases are closed. In Case Closed Volume 45, there are two stories that offer resolutions where the misunderstandings are corrected and forgiveness plays a part in the resolutions. This shows that the familiar can sometimes offer the biggest surprises.
POSSIBLE AUDIENCE: Readers looking for mystery fiction can find it in the "Shonen Sunday" detective manga, Case Closed.
Rating: A- /10
Last Updated: August 31, 2023 - 08:12