Case Closed: Volume 44 manga review
By Leroy Douresseaux
October 12, 2012 - 16:26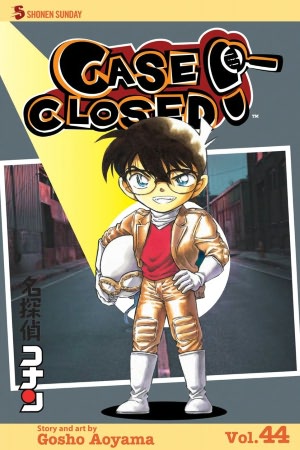 Case Closed Volume 44 cover image is courtesy of barnesandnoble.com.
Rated "T+" for "Older Teen"
Ace high school detective, Jimmy Kudo, is hot on the trail of Gin and Vodka, two nefarious men in black. The duo attacks Kudo from behind and later administers to him a mysterious substance that physically transforms the young detective into a first grader. While searching for a cure, Jimmy adopts the identity of elementary school student, Conan Edogawa. Acting alone and sometimes with his friends, the Junior Detective League (JDL), Jimmy/Conan continues to solve criminal cases and mysteries.
Case Closed, Vol. 44 opens during a famed high school baseball tournament. An unknown man has threatened to detonate a bomb in the filled-to-capacity baseball stadium. Conan and Harley Hartwell, "the other greatest detective in Japan," with the assistance of Mr. Otaki, race against time in a mad game with the bomber. They must find cell phones hidden underneath stadium seats by the bomber and crack the code on the phones in order to find the bomb and the bomber. Meanwhile, Richard Moore (the "Sleeping Detective"), Rachel (Moore's daughter), and Kazuha (Harley's lady) are locked into following the baseball game.
Later, Conan takes on the infamous super-thief, the Kaito Kid. Serena's rich uncle, Jirokichi Sebastian, has recently obtained the legendary gem "the Blue Wonder." Now, he's set a trap to catch the notorious Kaito Kid, but how can you trap a man who can seemingly walk on air? Conan will try.
Also, in "A Scary School Story," there is supposedly a ghost haunting Rachel's high school, which was also Jimmy Kudo's high school before he was transformed into a kid. With the ghosts of his past occupying his mind, can Conan use his detecting skills to uncover a ghost or reveal a prank?
THE LOWDOWN: It might seem as if it is "steady as she goes" when it comes to the Case Closed manga (known as Detective Conan in Japan). It is a reliable detective and mystery series with a bit of police procedural thrown into the mix, and it is always reliable in the way it entertains. Don't be fooled, however, as this is no tea parlor mystery fiction.
Case Closed is a comic book, and the events depicted in most of the storylines and story arcs move at a breakneck speed, like a superhero comic book. It is as much suspense thriller as it is an intricate whodunit full of clever contrivances. Sometimes, the reader can curl up on the sofa with a warm beverage and enjoy the comfortable mystery. Other times, the reader will be on the edge of his or her seat.
POSSIBLE AUDIENCE: Readers who want the mystery story in comic book form will want Case Closed.
Rating: A- /10
Last Updated: August 31, 2023 - 08:12