Case Closed: Volume 38
By Leroy Douresseaux
April 13, 2011 - 11:14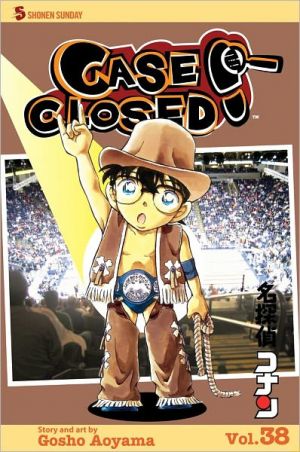 Case Closed Volume 38 cover image is courtesy of barnesandnoble.com.
Rated "T+" for "Older Teen"
Two nefarious men in black administer to ace high school detective, Jimmy Kudo, a mysterious substance that physically transforms him into a first grader. While searching for a cure, Jimmy adopts the identity of elementary school student, Conan Edogawa. Acting alone and sometimes with his friends, the Junior Detective League (JDL), Jimmy/Conan continues to solve criminal cases and mysteries.
As Case Closed, Vol. 38 opens, Conan trails a pair of men… in black?! Who are they and can they lead him to the cure that will return him to his proper age? Next, the mystery of the scroll of the lighting god ties into Girls' Day and a doll collection.
Next, did the popular, masked wrestler, Wolf Face, kill his opponent before a big match? The hidden camera doesn't lie, but, of course, only Conan will ask the right questions. Finally, in "Harley's Struggle," Harley Hartwell, teen detective extraordinaire, and his leading lady, Kazuha, are in the clutches of a murderous trio. Can Conan figure out the numbers in time to save him?
THE LOWDOWN: As usual, Case Closed (known as Detective Conan in Japan), the detective fiction manga, provides some good reading. I don't know how creator Gosho Aoyama manages to keep this long-running mystery series fresh, but he does. Case Closed is basically a comic book version of the classic whodunit, but the storylines and story arcs often vary in terms of styles and sub-genres of mystery fiction. Two of the story arcs found in Vol. 38 are darker in tone, and, in one, the characters face a perilous predicament. Once again, as usual, the readers will find it all quite gripping.
POSSIBLE AUDIENCE: Readers who love mystery stories and detective fiction will want to try Case Closed.
A
Last Updated: August 31, 2023 - 08:12