Case Closed: Volume 36
By Leroy Douresseaux
December 2, 2010 - 12:50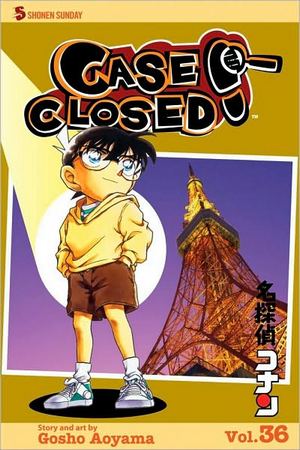 Case Closed Volume 36 cover image is courtesy of barnesandnoble.com.
Rated "T+" for "Older Teen"
Ace high school detective, Jimmy Kudo was trailing a pair of mysterious men in black,. The duo attacked Jimmy from behind and administered to Jimmy a strange substance that physically transformed him into a first grader. While searching for a cure, Jimmy takes on the identity of elementary school student, Conan Edogawa. Acting alone and sometimes with his friends, the Junior Detective League (JDL), Jimmy/Conan continues to solve criminal cases and mysteries.
In Case Closed, Vol. 36, the "Death Island" mystery comes to a conclusion as victims are revealed to be victimizers and revenge comes to light as a motive. Then, a bomber terrorizes Tokyo… again, and Conan might not survive this explosive mystery.
THE LOWDOWN: Just when it seems that Case Closed (known as Detective Conan in Japan) has settled into being a comic book version of the classic whodunit, creator Gosho Aoyama offers something quite surprising. The "With a Bang" storyline is a murder mystery in which the killer uses bombs. However, it is also a taut action thriller that is as exciting and as invigorating to read as any Hollywood action thriller is to watch.
POSSIBLE AUDIENCE: Readers of mystery fiction, regardless of style, will find something to like in Case Closed.
A-
Last Updated: August 31, 2023 - 08:12