Case Closed: Volume 35
By Leroy Douresseaux
July 29, 2010 - 10:13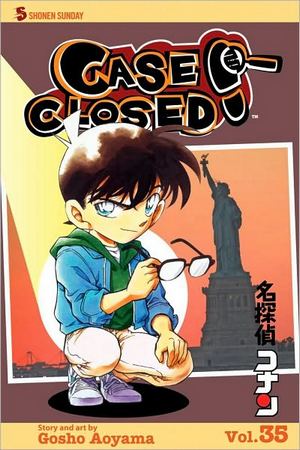 Case Closed Volume 35 cover image is courtesy of barnesandnoble.com.
Rated "T+" for "Older Teen"
Jimmy Kudo, ace high school detective, was hot on the trail of two mysterious men in black. They attacked Jimmy from behind and administered a strange substance that physically transformed Jimmy into a first grader. While searching for a cure, Jimmy takes on the identity of elementary school student, Conan Edogawa. Acting alone and sometimes with his friends, the Junior Detective League (JDL), Jimmy/Conan continues to solve criminal cases and mysteries.
In Case Closed, Vol. 35, one case ("Golden Apple" Chapters 2-5) is continued and closed. Two three-chapter cases ("The Mystery of the Haunted House" and "Missing Mitch") start and are closed, and a new murder mystery ("Death Island") begins.
"Golden Apple" is a flashback case that finds Jimmy, his mother (who is also known as the "Night Baroness"), and Rachel Moore in New York City's theatre district where they must solve the murder of a rising actor. "The Mystery of the Haunted House" finds Conan, Rachel, and Rachel's father, Richard Moore, the famous "sleeping detective" chasing ghosts in a rundown apartment complex. In "Missing Mitch," one of the JDL is missing and possibly in the clutches of a serial killer. "Death Island" finds Harley Hartwell (the "other" greatest detective in Japan) and Richard Moore as dueling detectives in a publicity stunt. Planned as a televised event, their mystery solving contest is meant to revive tourism for a group of remote islands, but instead becomes a real life murder case.
THE LOWDOWN: Known as Detective Conan in Japan, Case Closed is simply a wonderful read. As pleasantly appealing as the old television series, Murder She Wrote, and as twisty as a BBC Sherlock Holmes series, Case Closed always has the reader racing through a story trying to solve a case. The large cast can sometimes be a chore to follow, but mystery lovers will love living vicariously through the cast's adventures. Many of the guest stars are also wonderful, especially the elderly Hoichi Otonashi from "The Mystery of the Haunted House." With supporting character like him, Case Closed is a winner – case closed!
POSSIBLE AUDIENCE: Readers, young and old, who adore a good whodunit will enjoy Case Closed.
A-
Last Updated: August 31, 2023 - 08:12