Case Closed: Volume 21
By Leroy Douresseaux
January 8, 2008 - 13:26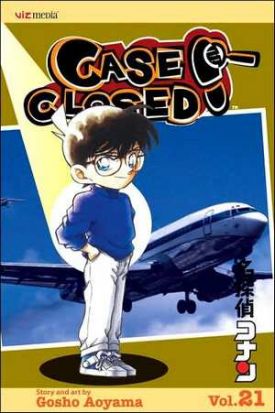 Thanks to barnesandnoble.com for the image.
In the long-running manga series,
Case Closed
, by
Gosho Aoyama
,
Jimmy Kudo
is an ace high school detective. Then, two mysterious men in black attack Jimmy and administer to him a strange substance that physically transforms Jimmy into a first grader. While searching for a cure, Jimmy takes the identity of elementary school student,
Conan Edogawa
. Acting alone and sometimes with his friends, the
Junior Detective League
, Jimmy/Conan keeps on solving criminal cases and mysteries.
In Case Closed, Vol. 21, it's murder most foul when Conan and JR Detective League tie up a castle-based case of murder by poison and hidden treasure. Then, Conan's friend Rachel Moore recalls a "locked room murder," aboard a 747. Next, a murdering husband can't fool Conan and finds the pint-sized detective to be something of a pest. Vol. 21 closes with the opening chapter of the next case – murder before the wedding.
THE LOWDOWN: Case Closed fits right in with the classical mystery story, but is more "whodunit" than hardboiled. Like the best mystery tales, Case Closed is a riveting, page-turner that it difficult to close; you literally can't stop reading until the case is solved. In the meantime, you could find yourself racing through each page, sometimes turning to the next before you're finished with the other.
Like many mystery tales, the reader can try to solve these often baffling cases, but Aoyama occasionally cheats and offers implausible nefarious schemes to commit murder (like the husband who uses a bookcase/exercise bike contraption). It's easy to miss obvious clues that are only obvious to the writer and his star detective, but these stories are still exceedingly fun to read.
POSSIBLE AUDIENCE: The U.S. comic book market is light on mystery comics. This will fill that space nicely.
A-
Shop VIZ at the Amazon aStore.
Last Updated: January 24, 2022 - 11:00