Comics / Comic Reviews / More Comics
Carnet de Voyage
By Hervé St.Louis
December 27, 2004 - 13:49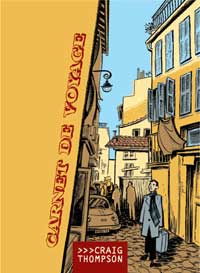 Carnet de Voyage is an autobiographical account of Thompson's 2004 European promotional tour. Inspired by similar books in the genre, Thompson draws some sketches of his daily activities and writes some of his personal comments about them. Readers unfamiliar with Thompson's work get a quick understanding of this character who changes from common American tourist to an insightful guide.



There's not much of a story or a plot here. One can feel like a peep for reading over Thompson's thoughts so freely. Here and there he spices his accounts from those of others, which is very useful. As he says himself throughout the book, he's very self-absorbed. French readers will enjoy a few Easter eggs, such as French cartoonist Blutch's letter to cartoonist Trondheim.



Thompson complains continuously about pain in his hand and a developing arthritis in this book. Seeing the quality of the sketches he creates, one can understand why. Most of his work is done with inks, which makes his work more arduous. It's really rivetting and cool. It would have been interesting to know if he did some practice sketches before or if he always lands a perfect page.
Last Updated: September 6, 2021 - 08:15