Comics / Manga / Yaoi Manga
Can't Win with You!: Volume 3 (Yaoi Manga)
By Leroy Douresseaux
Mar 27, 2008 - 15:33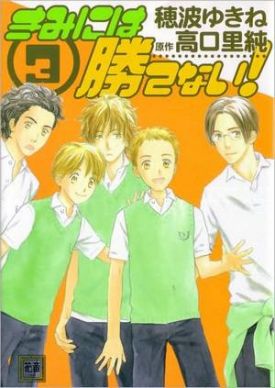 Thanks to barnesandnoble.com for the image.
The students of
Shuuiku Academy
are leaving for summer vacation. Quiet and shy
Yuuhi Torishama
lives nearby in the same backwoods country that Shuuiku calls home. Still, he has to stay on campus for the summer while his home is being remodeled.
Sango Tsutsui
is staying behind to keep an eye on the school. Yuuhi is secretly happy to be alone on campus with the older and taller Sango, so will the lack of prying eyes allow the two of them to get together?
Can't Win with You!, Vol. 3 offers a gentle kind of boys' love ("BL," comics that depict love between two males). It's charming mood and playful atmosphere – the gentle ribbing and teasing between the boys and playful banter – belie the notion at the heart of Can't Win with You!, which is that these affable, friendly students are engaging in sex with one another.
This volume is actually a pleasant and fun read. It includes a chapter in which a lusty male student finds himself frequently being fondled by a spirit! In another story, Yuuhi has a dream in which one of the boy/boy couples has actually given birth to a baby boy. That story is so weird, but also very wistful. It's stuff like this that makes Can't Win with You both peculiar and fun.
A-
Last Updated: Jun 26, 2018 - 9:28