Cancer Vixen: A True Story
By Leroy Douresseaux
September 27, 2009 - 12:06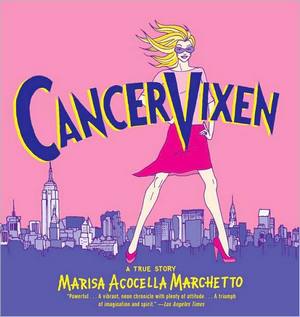 Cancer Vixen cover image is courtesy of barnesandnoble.com.
I remember when I first started reading Rolling Stone magazine. One of the things that I really liked was the long, feature articles in which the article's writer skillfully transported me into the world of which he wrote, both illuminating a subject, informing me, and teaching me new things. Years later, I found a comic book that recalled magazine feature writing and journalism, Cancer Vixen: A True Story, the 2006 graphic novel and memoir by Marisa Acocella Marchetto.
Marchetto is a cartoonist for The New Yorker and Glamour magazines, and her work has appeared other publications, including The New York Times and Modern Bride. Marchetto isn't a cartoonist who creates gags and comic strips while sitting at her drawing table. She is a cartoonist who works as a reporter, going out on assignments just like a regular reporter who works in words; she is also a cartoonist like a photojournalist who works in pictures. The difference is that Marchetto writes and draws her stories in comic strip form, which, she informs the reader in Cancer Vixen, is called "reportage."
In 2004, Marisa Acocella found a lump in her left breast. It was malignant, and Marisa began an 11-month battle with breast cancer. If such a health crisis wasn't enough, with all that it entails (surgery, chemotherapy, radiation, etc.), Marisa was also a working cartoonist, competing with hundreds of other cartoonists to sell work to magazines. At 43, she was also about to marry restaurateur Silvano Marchetto. Acocella turned her cancer ordeal and her personal and professional life into Cancer Vixen, a panel cartoon memoir for Glamour. In 2006, Cancer Vixen was released as a hardcover book to widespread acclaim. Now, it returns as a soft cover, and the book is as relevant as it ever was (perhaps, more so now because of the current national health care debate).
Cancer Vixen is more than a graphic novel as memoir. The storytelling structure and the composition of the art both lend themselves to a format that is similar to feature writing and journalism. Marisa's training and skill in comics journalism or reportage is a benefit here. Instead of merely creating a memoir recounting a very trying and frightening time in her life, Marchetto detaches herself as reporter, which allows her to observe the whole of her life and existence.
Marisa the "Cancer Vixen," is more than just a patient. She is a friend, lover, wife, daughter, cartoonist, "magazinista," professional, etc. The memoir side of Marchetto is the cancer patient, in which she tells her own harrowing story of facing mortality via cancer. The detached, trained reporter looks at herself as the social creature who has a life to lead, even if the more personal side – Marisa the patient – is afraid and even occasionally looks at voluntarily succumbing. The cancer is poignant, but it is fun to follow Marisa wearing fine shoes, eating excellent food, going to cool parties, catfighting with skinny skanks, and departing for vacation fun.
I'm not dismissing the interest readers might have in story of a cancer patient's trials and tribulations, but Cancer Vixen works so well as a kind of "medial memoir" precisely because it is about the whole person and not just patient. By presenting her life as being filled with interesting people, places, and things, Marchetto gets the reader interested in her story.
The triumph is not just that she survives; it is that she lives so well. Like those feature articles and investigative pieces that first attracted me to Rolling Stone, The Village Voice, The New Yorker, etc., Cancer Vixen tells a story that I never wanted to end.
A
www.marisamarchetto.com
www.pantheonbooks.com
Last Updated: August 31, 2023 - 08:12