Butterflies, Flowers: Volume 2
By Leroy Douresseaux
April 1, 2010 - 09:48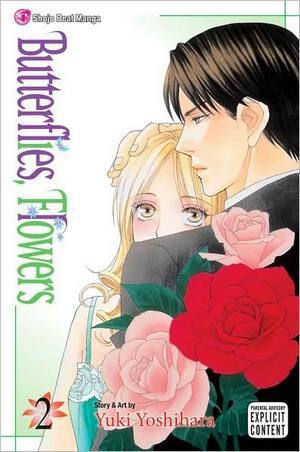 Butterflies, Flowers Volume 2 cover image is courtesy of barnesandnoble.com.
Rated "M" for "Mature"
Once upon a time, her upper class family was wealthy. Now, Choko Kuze is an office worker in the Administration Department of Benten Estates. The boy she knew as "Cha-chan," the son of a former servant is now her tyrannical boss, Masayuki Domoto a.k.a the Director. Masayuki, however, is still in love with Choko. Between bouts of sexual harassment, he also treats her like a genteel lady.
As Butterflies, Flowers, Vol. 2, opens, Masayuki is finally starting to come around to admitting his deep feelings for Choko. Then, Miss Makie, the niece of the President and CEO of Benten Estates, arrives. Makie is determined to make Masayuki hers, even if she has to threaten his job to get him. Will Choko step aside to protect Masayuki's career, or will she openly declare her love for Masayuki and battle Makie for him.
THE LOWDOWN: While it is published as part of VIZ Media's Shojo Beat line of manga, Butterflies, Flowers is more josei manga (comics for adult women) than it is shojo manga (comics for teen girls). It may be, at the very least, appropriate for older teenagers, but its narrative style and the way creator Yuki Yoshihara executes the plot makes this a high school romance masquerading as an adult, workplace romantic comedy and drama.
The cat fights, love triangles, fashion emergencies, angst, etc. that fill teen shojo are here in abundance. The difference is that Choko does more than just think about sex. She tries to experience it, with hilarious results. By depicting the trials and tribulations of love among 20-somethings, Butterflies, Flowers is inadvertently more honest about teen love: sex is indeed in the romantic equation. This is a sweet love story no matter what label is placed upon it.
POSSIBLE AUDIENCE: Shojo readers ready for the no-(wo)man's land between PG-13 and R will want Butterflies, Flowers.
B+
Last Updated: August 31, 2023 - 08:12