Marvel Super-Hero Half-Time Report

By Philip Schweier
December 18, 2015 - 09:48
We're at the mid-season mark for American television, so let's share some thoughts regarding some of the comic book based TV shows, this time those presented by Marvel.

AGENTS OF SHIELD: Now in its third season, we have seen the entire original concept entirely discarded. Is this the organic result or story-telling (i.e., events in Captain America: The Winter Soldier), or are producers scrapping their original intentions? Hard to say, but I'm optimistic in regarding it as an evolution of the property, keeping things fresh as relationships form and fall, and characters come and go.

Nevertheless, I find it unfortunate that Agents of SHIELD seems to be subject to events in the Marvel movies. It is my hope that as the series demonstrates an ability to roll with the cinematic punches, the Powers That Be will recognize the series as deserving of its independence.

This season seems to be building toward the eventual Civil War storyline in the third Captain America film. Super-powered people, many out of control, is a lynch-pin to this season's story arc. And thankfully, it seems intent on keeping its cast of characters small and tight. This has allowed the audience to become invested in the characters and they're overall mission to defeat Hydra.

Another area where SHIELD excels is its clear connection to the grander Marvel cinematic universe, without dwelling on it endlessly. Too often, these kinds of franchises tend to add references to other properties simply because they can. Such ideas quickly descend into jokes that fall flat.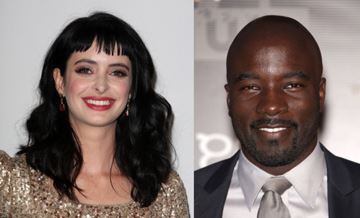 Krysten Ritter and Mike Colter portray Jessica Jones and Luke Cage

JESSICA JONES: I read one Facebook comment (paraphrased): "What is this? All the heroes are women, and the guys are either villains or eye cand–oh, I get it." Well, that's one perspective. Perhaps this was Marvel's response to those who complained about the Black Widow not being given enough in Avengers: Age of Ultron.

Nevertheless, it doesn't take away from the fact that it was a really, REALLY good series, and I look forward to more. I was unfamiliar with the character before this, but I like what I see: a super-powered person fighting evil without putting on a costume and adopting a code name.

Is there a flaw in that? Oh, GOD, yes. Self-destructive behaviour in one of the most challenging urban environments on Earth, and a supporting cast that runs the gamut from users and abusers, enablers, co-dependents and emotional supporters. I'm looking forward to more.

AGENT CARTER: Last winter's Agent Carter series was also successful in presenting a female character who was as bad-ass as any male counterpart. In addition to seeing her kick butt, we also enjoyed some emotional moments, elevating the series beyond the mere novelty act of a female super-spy.

It pleased me that the series is entirely stand-alone. Though set during SHIELD's infancy, Marvel could have easily tied the story to Agents of SHIELD, strengthening the ties of the Marvel cinematic universe. Kudos to Marvel for resisting that temptation. Instead we were given a self-contained story, strengthening Agent Carter as an independent project. I'm looking forward to its return in January, 2016.

Marvel's Agent Carter series seems to be following what I would describe as a British production plan. My impression is that in England, TV producers don't adhere to the September-May season American networks have historically followed. Instead, they create a series, and once filming is completed, they search for a network to air it. They may produce five episodes, perhaps 10, perhaps 20. The emphasis seems to be on telling a good story, rather than pandering to advertising revenue.

I do hope more American providers follow this same model. Since the advent of Netflix original series, and streaming from AmazonPrime, it does seem more viable than ever before. It won't be long before American TV networks will be forced to re-evaluate their business strategies regarding content.

Praise and adulation? Scorn and ridicule? Email me at philip@comicbookbin.com
Last Updated: August 31, 2023 - 08:12