Flash of Two Networks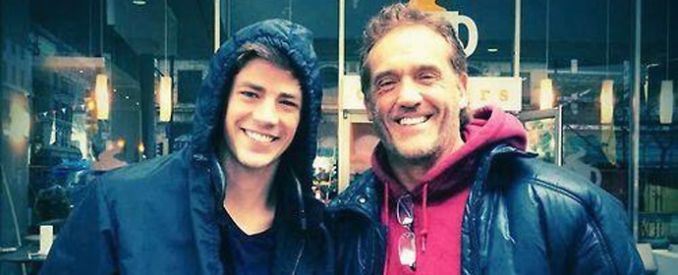 By Philip Schweier
June 25, 2015 - 11:23
I've been a comic book fan a long time, so back in 1991, I was pleased to learn they were making a Flash TV series, but having been burned so many times, I was skeptical at the same time. I was confident that the writers, producers and stars would do their best, but often a TV show is at the mercy of the network, especially when it comes to important factors such as budget and time slot.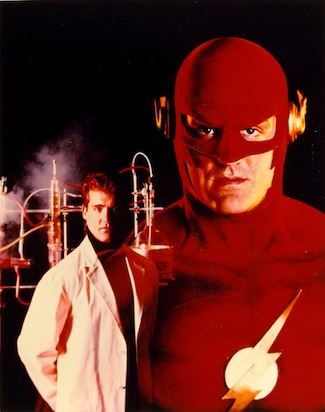 The Flash TV series debuted on CBS in 1990

The series launched with a great deal of ambition, but like many genre shows, it was expensive to produce. According to John Wesley Shipp, who starred as the Scarlet Speedster, the show was budgeted at $6.5 million, the most expensive show Warner Brothers had ever produced for television up to that point. Expectations were high, leading to a backlot premier, and a tremendous amount of press.

The series debuted September 20, 1990, pitted against The Cosby Show and The Simpsons, both at the peak of their popularity. Shipp believes CBS may have been too confident. "That was a tough time slot, but still, in our debut, we held our own. We obviously didn't win the time slot, but a new show coming in, the president of CBS said, 'If you guys continue to do those kinds of numbers, we're satisfied.' "

In retrospect, it's easy to make comparisons to Tim Burton's Batman and Warren Beatty's Dick Tracy films. Both movies created this other world in which such characters exist, and CBS's The Flash seemed intent on following the same path, complete with music by Danny Elfman.

TV shows from any given era are often a reflection of the sensibilities of the period. Perhaps the original Flash appears dated and a little goofy, but its pedigree is pure. Several scripts were written by comic creator Howard Chaykin, who has at times expressed a disdain for super-heroes, and often attempts to give his heroes real-world sensibilities.

The series producers, Danny Bilson and Paul DeMeo, struggled for several years to bring Dave Steven's creation The Rocketeer to the big screen. While its box office returns were somewhat lackluster at the time, the film is regarded fondly by its many fans, and they treated the Flash with the same respect.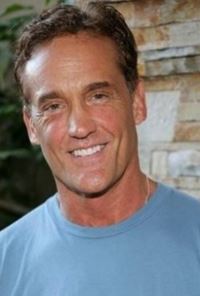 John Wesley Shipp

According to Shipp, the initial concept was that it would be a gritty crime show and the one 'real' element would be speed. "But as it went on," he says, "not only in storyline but in look, suddenly I was watching dailies and at one point particularly, it was getting very bright, very colorful – too much, I thought. It should be kept grittier and darker with more of an adult sensibility, but there again, when your ratings aren't as high as you might want them to be, other people come in with a bunch of ideas about how to fix that."

Maintaining an even pace with two primetime powerhouses every week proved difficult for the freshman series. The network compounded that by preempting the series twice, first on account of the World Series, then because of the start of the first Gulf War. With ratings dwindling, CBS decided to move The Flash from 8-9:00 Thursday to 8:30-9:30. Finally The Flash was moved off Thursdays entirely.

Shipp claims what was disturbing was the comic book fans were writing and calling and saying, "Where are you? We can't find you." Obviously, if a show's core audience can't find it, then there's very little hope. "We were an industry hit," the actor argues. "I had two or three TV Guide covers. I was on Jay Leno twice. He loved the show. The president of CBS was saying 'This is our hit.' But it was very poorly managed."

After only a single season of 21 episodes, the race for ratings reached the finish line, with The Flash in last place.

It amazes me to think that 25 years have passed since the series ran. Watching it on DVD, it does not feel terribly dated. Okay, some of the fashions perhaps, and familiar actors are much younger. But there isn't that extraordinary sense of distance seen in other revivals, such as the quarter-century gap between George Reeves' Adventures of Superman and Christopher Reeve's Superman – The Movie.

So when the CW announced a new Flash TV series, I couldn't help but once again be skeptical. How could the new series' producers, Greg Berlanti and Marc Guggenheim, achieve what Bilson and DeMeo could not?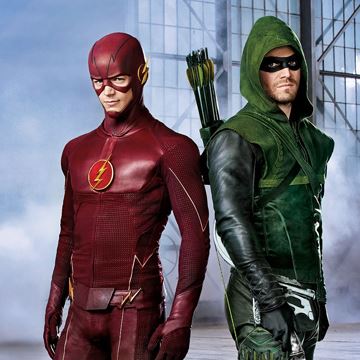 Grant Gustin, as the Flash, with Stephen Amell as Green Arrow

To begin with, Berlanti and Guggenheim intended to build upon the success of Arrow, their television version of DC's Green Arrow by tying the two shows together. Also, television has evolved, both narratively and technologically. Special effects for genre-related shows are much more affordable, and storytelling on television has evolved away from the one-and-done format of the early '90s.

One of the charms of the new Flash TV series is its respect for its audience; not just the current crop of comic book fans, but older fans like myself who recall what has come before. Despite the fact that the earlier series lasted only one season, Berlanti and Guggenheim acknowledge the Flash's TV history by including respectful nods to the original series.

Shipp, who played the original Barry Allen, now plays Barry Allen's father. While he may not appear in each episode, it's a pivotal role, providing an emotional compass for the "new" Barry, Grant Gustin. The father/son bond between the two is evident in every scene they share.


Amanda Pays

Amanda Pays co-starred as STAR Labs scientist Tina McGee on the 1991 series. Her scientific and technical expertise served the same function as the staff of STAR Labs on the current series, lending support to Barry's activities as the Flash. Since then, Pays has reprised her role as a former colleague of STAR Labs founder Harrison Wells. In her initial appearance, she came across as bitchy and not at all likeable, but as the curtain was pulled back to reveal Wells true nature, her resentment toward him was more understandable.

Mark Hamill was already famous for his role as Luke Skywalker when he took on the role of the villainous Trickster in two episodes of the first Flash TV series. His over-the-top Joker-like persona may have led him to winning the role of the Clown Prince of Crime on the animated Batman series of the early 1990s. On the CW version, he reprised the same character, having been in prison all these years, and now passing the torch of crime on to a new generation of costumed crooks.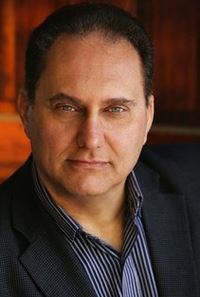 Vito D'Ambrosio

Another original cast member to appear on the new show is Vito D'Ambrosio, who played a supporting role as Officer Tony Bellows. Since then, Bellows has ascended the ranks of Central City public service. D'Ambrosio portrayed Mayor Anthony Bellows in the same Trickster episode.

With such ties to the earlier show, the question arises: Why is one Flash series succeeding where another failed? Such a puzzle can only be resolved if the playing field were even, and they have not been. The earlier series was at the mercy of an entertainment corporation whose greatest concern was the bottom line. Perhaps the same can be said of the new series, but it helps that CW is owned by the same corporate parent as DC Entertainment. Rebranding the comic book publisher into a general entertainment company further streamlines the general cost of doing business, and increases the profit margin.

Generational nods aside, Berlanti and Guggenheim have crafted an overall story arc, introducing supporting roles, antagonists and peripheral characters that continually move the plot threads forward. Everyone involved in the show, from in front of the camera, behind the camera, and in the back office, has contributed a certain amount of fertility to the show's direction.

CW's Flash series is headed for a second season, something the earlier show was denied. Granted, the two Flash shows have been on different networks, at different times, which have different agendas. To their respective networks, Bilson and DeMeo may have had less of a track record than Berlanti and Guggenheim.

As long as the Flash continues to turn a respectful profit, we can look forward to more. As for the feature film currently scheduled for release in 2018, only time will tell. Once more, I can't help but be skeptical, but I've been wrong before.

*John Wesley Shipp's comments are taken from a panel at Dragon Con, 2007
Last Updated: September 6, 2021 - 08:15