Euro-comic Book Stores
By Philip Schweier
October 31, 2011 - 09:21
Not too long ago I was blessed with an 8-day to Europe; specifically to London and Paris. Naturally, the opportunity to investigate the comic book stores was too hard to resist. Thanks to the very friendly and helpful clerk at one of London's game stores, we were directed to two stores.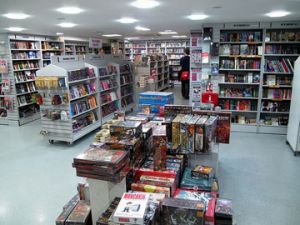 The basement of Forbidden Planet. This photo shows maybe 1/3 of the space.

Forbidden Planet, located at 179 Shaftesbury Ave., City of London (+44 20 7420 3666) is perhaps the largest of the London area comic book stores, attracting book signings by celebrities such as film director John Landis (Animal House, Blues Brothers) and actor Warwick Davis (Willow, the Harry Potter movies).

The ground floor features an extensive assortment of genre fiction related merchandise: posters, toys, Dr. Who memorabilia and so on. We did a small amount of holiday shopping for our fellow geek friends, finding many unique items that have yet to make their way to the U.S. The basement of the store is home to its media selection: American and European comic books, graphic novels, books and DVDs.

All in all, it would only be the most fickle fan who can't locate a choice item or three in Forbidden Planet.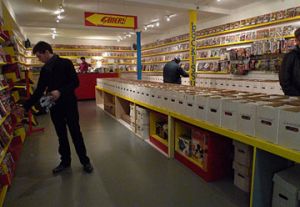 Orbital Comics

Not too far away was Orbital Comics, at 8 Great Newport St. (0207 240 0591). While not as large as Forbidden Planet, it excels in the area of customer service. The staff was friendly, helpful and very accommodating to a couple of Yanks from across the pond. Prices were pretty reasonable as well.

Next came Gosh Comics, at 1 Berwick St. Though it was recommended by the gentleman at the game shop, I found little to interest me, but that may have been because I was on a budget and had visited two stores already. However I did manage to locate a couple of back issues I've been unable to locate stateside.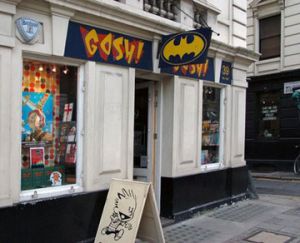 Gosh Comics at 1 Berwick St., London

Later, while in Paris, we hit the usual tourist sites, and about three blocks south of the Cathedral of Notre Dame along the Rue Dante, we stumbled across two shops – Librairie Gael and Manga Shop Little Tokyo – but as it was late in the afternoon on a Sunday and they were both closed.

Moving further away from Notre Dame, we hit something of a motherlode. At the intersection of Bd. Saint-Germain, one will find what appear to be three separate stores, all featuring a royal blue awning with a gold oval and the single word "album" in it. I find it unlikely they're all affiliated, and one was closed, but the other two both had ample selections of English-language comics (new and back issues) as well as French and Italian comics, as well as many statues, toys and other genre-related items.

Now consider this for a moment: imagine a store completely dedicated to your favorite comic book character. A Spider-Man store, with nothing but toys, books and merchandise dedicated to your favorite neighborhood wallcrawler.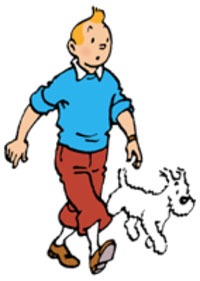 Herge's Tintin, with his dog Snowy (Milou)

Europe has that, only instead of Spider-Man, it's Tintin. Though he has never made a strong impression in the States, he has been hugely popular in Europe since his creation in Belgium in 1929. However, the imminent release of the Steven Speilberg's Tintin film may change that.

There are a few stores here in the U.S. (New York, San Francisco, et al), but I found it disappointing that in Paris there was very little to be found in the way of Tintin stores. The aforementioned Paris comic book stores carry some Tintin merchandise, but the only store I found was in London (34 Floral St, Covent Garden).

Certainly this is not a complete list of comic book stores in the London and Paris areas, but if these stores are any indication of what else Europe has to offer American comic book fans, it is clear to me that Americans visiting overseas will find plenty to whet their appetites, whether it is for mainstream material or something completely different.

Praise and adulation? Scorn and ridicule? E-mail me at philip@comicbookbin.com

Last Updated: December 31, 2019 - 20:28