Taking Stock of James Bond
By Philip Schweier
January 24, 2011 - 11:08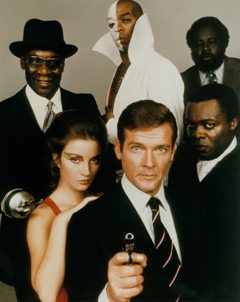 Roger Moore in his first outing as James Bond

Over the holidays, I completed my James Bond movie collection. It's hardly a feat worth mentioning, as the films have been available in various forms since the dawn of home video. Nevertheless, I started out with the MGM Collector's series DVDs, so I wanted to be consistent as I added more to my collection. Besides, they're the ones with all the extras.

My first exposure to James Bond came in the form of the theme to 1973's Live and Let Die. It was played on the radio constantly and caught my 8-year-old ear. Yet when I eventually saw the film on television, I could never get past the opening sequence. Who were these people that were being killed and why? And why did the New Orleans-style funeral turn joyous, if it wasn't the bad guys celebrating the demise of a good guy, and wouldn't this be a giveaway that they were evil?

Such is the logic of a small boy with no patience.

As the 1970s progressed, more James Bond films were shown on television, usually with the cautionary "Parental discretion is advised." Today, such a disclaimer seems silly in light of the volumes of nudity and profanity to which current television audiences are subjected. Nevertheless, it was enough for my parents to deny me the pleasure of seeing super-agent 007 in action. Besides, Live and Let Die failed to interest me. What could I be missing?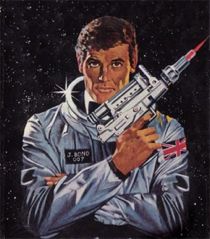 Is that a tuxedo underneath that space suit?

Nevertheless, my older brother explained to me that Bond was something of a British version of G.I. Joe, putting it in terms to which I could relate. So when I was older, around 13, I picked up a copy of Diamonds Are Forever from the public library and read it. Meh. Still unimpressed.

By this time, James Bond, as played by Roger Moore, had entered something of a silly phase, which reached bottom with the release of Moonraker (1979). An avid Star Wars fan by this time, even the outer space laser battle of Moonraker's finale was underwhelming.

Sure, I could've gone for the Sean Connery era James Bond films, but they seemed rather dated. I was unable to see them as a product of their time and instead chose to apply their individual stories to the current world environment. More fool me.



Robert Conrad as Sloane

Around this same time, Robert Conrad starred in a 12-episode series entitled A Man Called Sloan. He played a suave super-spy in the vein of 007. I recall the promotional photos, depicting Conrad with a pistol in one hand and a champagne glass in another. I never saw the show, but I gathered it was played for its camp value, seemingly making fun of the James Bond spy genre. Given the level of quality of the Bond films at the time, I felt the mockery to be superfluous.

But Bond afficianados will tell you that all changed with the release of For Your Eyes Only in 1981. The opening sequence seemed to discard the earlier sensibilities and apply a more realistic approach. I enjoyed the movie, but by this time, Roger Moore had cemented himself in my mind as too much of an over-dressed dandy, more interested in his wardrobe and women to get the job done. His on-screen romance with a girl young enough to be his daughter (Lynn Holly Johnson) was ridiculous.

Neverthless, I was working at a movie theater at the time and sat through multiple showings of For Your Eyes Only. Despite its pedigree, it grew on me. Not enough to interest me in Octopussy (1983), but A View to a Kill (1985) was enjoyable, though again, Moore was too old to be chasing young women around, and his on-screen romance with Grace Jones seemed unlikely.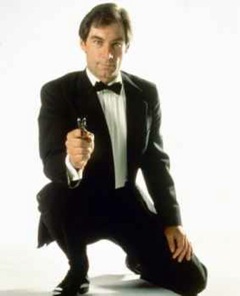 Timothy Dalton

The came The Living Daylights (1987) – and everything changed. To me, Timothy Dalton made a fantastic James Bond. The movie had action, violence, realism and everything I wanted in a Bond movie and more. License to Kill (1989) not so much, but still we were off to good start.

I actually started reading the James Bond books by John Gardner around this time and found them very enjoyable. I appreciated his ability to update the character into the modern era. Ian Fleming's original stories still seemed rather dated, as did the Sean Connery films.

Fortunately, a friend of mine who was a HUGE James Bond fan shared Dr. No (1962) and From Russia With Love (1964) with me and I found them very enjoyable. This time, I was able to regard them as spy adventures set in the early 1960s.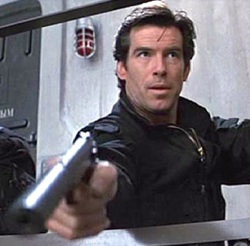 Pierce Brosnan in Goldeneye

Sadly, Timothy Dalton was unable to turn in a third performance as Bond. Pierce Brosnan was announced as the new star, though I had misgivings. Given his image from the TV series Remington Steel, would this be a return to the overly suave and effete James Bond as presented by Roger Moore?

No, it would not. Other than a musical flaw in the opening sequence, Goldeneye (1995) proved to be another success in my eyes. Brosnan continued to do well. Tomorrow Never Dies (1997) was a little weak, but The World is Not Enough (1990) was better.

Die Another Day (2002), not so much. Again the film seemed to rely heavily on gadgets, which has often been the downfall of many a hero. Whenever Batman is captured, the first thing they take away from him is his utility belt. A hero lost without his toys is less of a hero.

But it also demonstrated a common flaw among the James Bond that had come before. When a series – on film or in comic books – begins to move away from character and focus more on gimmicks such as stunts, special effects, guest stars or gadgets, the series becomes less of an engaging story and more of a empty showpiece, winking at the audience as if to say, "Look what we can do. Aren't we clever?"

Daniel Craig's debut outing in Casino Royale (2006) proved a return to basics was essential, as it had been with For Your Eyes Only in 1981 and On Her Majesty's Secret Service in 1969. Say what you will about George Lazenby's only outing as James Bond, but aside from being perhaps overly long, it's not a bad film. Lazenby has been, in my opinion, unfairly criticized for diminishing the series as a whole. Let's face it, Sean Connery is a hard act for anyone to follow. Perhaps had Lazenby made another Bond film or two, it would be possible to better critique his performance as 007.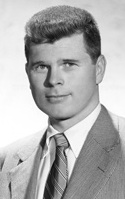 Barry Nelson as James Bond for TV's CLimax!

Other films of note for James Bond fans include the comedy spoof Casino Royale (1966) which, in keeping with Bond tradition, features a rather snappy theme song. An earlier version of Casino Royale starring Barry Nelson as an American secret agent was filmed in 1954 for the anthology television series Climax!, and featured Peter Lorre as le Chifre.

While Sean Connery returned to the role in 1983's Never Say Never Again, a remake of Thunderball (1965), I would be remiss if I didn't mention what is undoubtedly the lowest point for James Bond on film – Operation Double 007 (1967). Sometimes catalogued as Operation Kid Brother or OK Connery, it stars Sean's brother Neil Connery, who is hired by Bernard Lee and Lois Maxwell, seemingly reprising their roles as M and Miss Moneypenny respectively, though they are never mentioned by name. The movie also features other James Bond alumnae such as Adolfo Celi (Emilio Largo in Thunderball), Anthony Dawson (Professor R.J. Dent in Dr. No) and Daniela Bianchi (Tatiana Romanova in From Russia With Love). Only the Mystery Science Theater 3000 version makes the film watchable, and even then it takes some effort.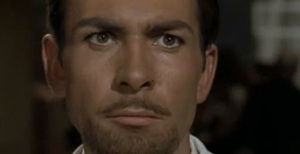 Neil Connery, younger brother of Sean

Fortunately, that film has never made it to DVD, or I might be forced to buy it as well.

Praise and adulation? Scorn and ridicule? E-mail me at philip@comicbookbin.com
Last Updated: September 6, 2021 - 08:15