Comics, Kids and the Creation of Galaxy Man
By Philip Schweier
Nov 15, 2009 - 7:42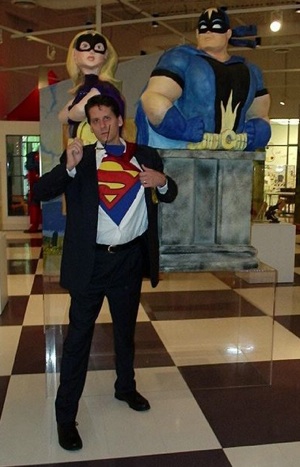 Kyle Putkammer of Galactic Quest Comics
Like many comic book fans, 42-year-old Kyle Puttkammer is a man with a mission to "spread the gospel." As the owner of Galactic Quest Comics in Lawrenceville, GA., and a second store in nearby Buford, he has had the unique opportunity to inspire children of all ages to use their own super power – imagination.
Galactic Quest started in 1991 when a friend approached him about the two of them going into business together, one selling baseball cards, the other selling comic books. "I started out with $300 in comics and $300 in cash, he says" Within a year, his part-time venture became full-time.
But starting any business has its pitfalls, and in the late 1980s and early '90s, opening a comic book store entailed double danger. Speculators had seemingly taken over the market, leading to variant covers and "collectors' comics," but longtime readers were disappointed in mediocre stories and lackluster art. Eventually the boom became a bust, and when the speculators abandoned comics as an investment, many comic shops were left with excess inventory that their core customers weren't buying. According to Puttkammer, approximately 40 stores opened and closed in suburban Atlanta in those days.
Galactic Quest may have become just another statistic were it not for its art classes. In 1992, the store began hosting art classes for kids and teens interested in learning to draw comics. "It very quickly became something that kept our doors open," says Puttkammer. Though mostly self-taught, much of his training comes through collaboration with other artists, and teaching younger students, as well as a few classes at the Art Institute of Atlanta and the Art Institute of Milwaukee.
Twenty years later, he has taken his art class on the road to schools and libraries, encouraging kids to create their own heroes (and villains). Puttkammer says, "My goal was to become a faster, better artist by way of the exercises that I used in teaching, as well as by collaborating with other artists. I also wanted to get kids engaged in the process of creating for themselves." Puttkammer's audiences have numbered from a handful of kids to hundreds.
During the course of the art classes, a store mascot, Kid Quest, was created, and at comic book conventions, Puttkammer would get professional comic book artists to draw their own version. It wasn't until Humberto Ramos sketched a fully-grown Kid Quest that Puttkammer began to see true potential in the character, planting the seed of what would eventually become Galaxy Man, the star of Puttkammer's own all-ages comic book.
Though Puttkammer may have created Galaxy Man, the book is written by Patrick Gallagher, penciled by Allen Belk, inked by Puttkammer and colored by Donald Jones.
"Galaxy Man is really Stanley Quest," he explains, "an astronomer whose wife was lost on a mission to Mars. Using his super-powers, Galaxy Man hopes to one day rescue his wife." Galaxy Man is sometimes assisted by Cosmic Girl, whom he doesn't realize is really his daughter, Suzie.
The comic book is intended for kids and parents to enjoy together. It also provides insightful life lessons. The first issue's message was that fighting doesn't solve anything; the second issue dealt with pre-judging people based on appearance.
"I was looking for my calling," says Puttkammer, "and hoping to come up with a story that is timeless, and one that I would be proud to share with my daughters and present to the general public."
As the father of two girls, Puttkammer feels there is a lack of all-ages comic books being published, especially for girls, though that may be changing. DC Comics' all-ages series,
Supergirl: Adventures in the 8th Grade
, sold out at Puttkammer's stores.
"I am very encouraged when I see Boom! Studios publishing
Cars
and
Monsters, Inc.
and
The Muppet Show
," says Puttkammer. "I've found in my stores that the larger my children's section gets, the better my sales are."
So far two issues of
Galaxy Man
have been published, and a third is in the final stages of being colored and prepared for printing. "If I can do two or three issues a year, I'll be happy," says Puttkammer. "It may only be a part time gig, but it pays dividends. I have no concern that
Galaxy Man
won't have an audience."
In addition to the comic book, he has also turned the adventures of Galaxy Man into a radio-style audio drama. "It started out as a gift to myself. Some friends and I recorded it, and we needed a place to store it so it ended up on our website and people found it and really seemed to enjoy it. It seems very popular in India."
Perhaps Puttkammer's most satisfying moment in the launch of
Galaxy Man
was when he encouraged the Hudgens Center for the Arts in Duluth, GA., to host an exhibit on comic books and super-heroes. They agreed it was a great idea, and that Puttkammer was just the person to organize it.
It became an art exhibit featuring the work of Puttkammer, Andy Lee, Trevor Hawkins, Alan Belk, Chuck Groves and Eddie Wright. On display were original paintings and comic book pages in tribute to the comic book art form.
For more information on Galaxy Man, visit
www.galaxymancomics.com
Last Updated: Dec 19, 2017 - 22:52