Long Live the Legion!
By Philip Schweier
June 15, 2009 - 11:51
The Legion of Super-Heroes has always been near and dear to my heart. About the very first comic book I ever read was
Legion of Super-Heroes
#3 (1973), part of a 4-issue series reprinting some of the Legion stories from
Adventure Comics
. Shortly afterwards, the Legion became part of the
Superboy
title.
So I find it ironic that as DC Comics is launching a new
Adventure Comics
title starring the Legion of Super-Heroes. My big, fat geek accomplishment has been to rebuild my collection of the original
Adventure Comics
run. I started with
Adventure Comics
#340, which features the Computo story by Jim Shooter and art by Curt Swan. Earlier issues feature the artwork of John Forte, and the storytelling is a bit juvenile.
It was around this time that young Shooter began submitting scripts to DC Comics (then National Comics), which elevated the team above mere teenagers with super powers. Somehow, the writer tapped into the youthful heroes like nobody ever had. Perhaps it was because, as National later discovered, Shooter was only 14 years old.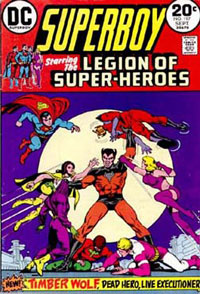 The Legion moves in...
The Legion's final story was in
Adventure Comics
#380, after which it moved over to
Action Comics
. The popularity of the Legion had diminished, but over the next few years a slow rebuilding process took place, culminating with the takeover of the
Superboy
title. While the time between
Legion of Super-Heroes
#3 and the debut issue of
Superboy starring Legion of Super-Heroes
#197 was only a few months, Dave Cockrum's character designs seemed centuries ahead of the earlier version.
Cockrum left after #202 over a dispute regarding artwork. In a joint interview with Mike Grell for
BACK ISSUE
#14 (February, 2006), Cockrum said, "When I did the wedding of Bouncing Boy and Duo Damsel (
Superboy starring the Legion of Super-Heroes
#200, "The Legionnaire Bride of Starfinger"), they (DC Comics) weren't returning artwork yet at that point. Marvel was, DC wasn't, and I asked Murray, I said, 'Listen, could I have this double-page spread back, the wedding scene? I know you don't give back anything else, but I'd like to have that for my own personal collection.' And Murray said, 'I don't see any reason why not. Sure.' So later on the artwork came back and he set that aside for me. The day that I was about to come in and pick it up, Carmine Infantino happened to see it on Murray's desk, said 'What's this?' and Murray told him and Carmine said, 'You can't let him have that back. We're not returning artwork.' And that was it, I didn't get it. Actually I did get it back but much later."
Enter Mike Grell – literally. "Apparently, Dave and I passed each other in the hall," Grell says. "I was walking in as he was walking out, and Murray Boltinoff was on vacation, destined to come back and discover he didn't have an artist for Legion of Super-Heroes. So Murray gave me the job inking – destroying – Dave's pencils on a story as a tryout and then I ended up fulltime on the book."
Grell's artwork was the first that made me sit up and take notice, and I became a fan for many years.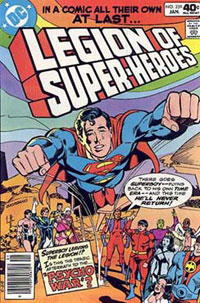 ...and eventually takes over
Beginning with #209, Jim Shooter returned, scripting Legion adventures until #224, when he was lured away to Marvel Comics, where he eventually became editor-in-chief. Grell departed as regular artist with issue #228, though he continued to do several covers. Even Superboy left, and the title officially became
Legion of Super-Heroes
as of #259. Me, I stuck around, following the Legion as it approached issue #300.
But real life has a habit of getting in the way, and as I entered college certain things had to give. My comic book budget was trimmed back and the Legion was a casualty of that. I'm sorry to say I didn't even notice when record-setting writer Paul "100 issues" Levitz left the book, and his collaborator, Keith Giffen, took over the writing and re-launched the Legion "five years later."
Superman's major facelift in the mid-1980s did away with his history as Superboy, thereby reducing the Legion to a continuity anomaly. Efforts to explain it ranged from the convoluted to the ridiculous, and eventually the team faded from the DC Universe altogether.
In 2005, Mark Waid and Barry Kitson introduced a new Legion, more rebellious than before, and as one retailer described it, reminiscent of the counter-culture movement of the 1960s and '70s. Eventually the book became (briefly) tied to the Supergirl title, and even heralded the return of Jim Shooter to the feature.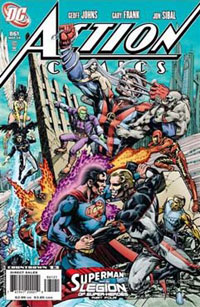 Mike Grell revisited the Legion during Geoff Johns Superman/Legion story in Action Comics
However, in recent years the powers that be have seemingly tried to distill much of the DC lore into a more ethereal substance. Writers and artists are allowed, and often encouraged, to be creative, while remaining true to the essence of the history of the characters and concepts to which they contribute. This openess allowed Geoff Johns to feature the Legion in a six-issue story in
Action Comics
, demonstrating he may very well be the perfect man to write the Legion. Turning in a fan-favorite episode of the
Smallville
TV series featuring the teen heroes from the 31st century certainly didn't hurt.
Writer Geoff Johns with The Persuader during the shooting of Smallville.
Many writers have found the Legion a bit intimidating, due to the size of its cast. I would think having a ensemble of more than 20 characters would offer a tremendous amount of leeway for creativity. It's certainly not as if every Legionnaire be featured in every story. Albeit, each character should be given his or her due, and for comic book creators working on a team book, it can be easy to build stories around favorites.
The Legion has been around for 50 years, and has seen its popularity ebb and flow. It is my belief that we are in one of those periods when the team of heroes is on the verge of achieving even more greatness.
Praise and adulation? Scorn and ridicule? E-mail me at philip@comicbookbin.com.
Last Updated: September 6, 2021 - 08:15