Batmania, Part 3: Trust, Talent, Toetags ...and Schreck, Too
By Philip Schweier
July 7, 2005 - 08:49
years ago, when longtime Batman writer/editor Denny O'Neil retired from the book, bat-fans everywhere wondered who would replace him. His successor, Bob Schreck, was met in some circles with confusion. Bob who? Schreck? He's never written a Batman story. Who is he? Didn't Christopher Walken play him in Batman Returns?

To mainstream comic book fans, Schreck may have been a new name on the DC radar, but his pedigree makes him eminently qualified for his position. Making the most of his opportunities, his career began working for Gary Berman and Adam Malin of Creation Conventions. This enabled him to meet and network with high-level management at DC and Marvel. "I started working at Creation, and that allowed me to go, 'Hello, Mr. Shooter. Hello, Carol Kalish. Hello, Archie Goodwin.' "

It was through Marvel staffer Carol Kalish that Schreck was hired to run conventions for the publisher's 25th anniversary. However, then-editor-in-chief Shooter had perhaps unrealistic expectations, and Schreck left Marvel to join Comico in the mid-1980s before moving on to Dark Horse. "DC tried to hire me from about '86 on, and I turned them down."

When Oni Press, which he co-founded with Joe Nozemack, threw its first party at the San Diego comic convention, longtime DC exec Paul Levitz joined them, even though Oni had yet to publish their first book. "Paul walked in and said, 'I thought I'd come check it out and see what you're doing. I figured after a few years of you banging your head against the wall, when you get tired of it, maybe we'll hire you.' "

Years of wooing by DC finally paid off. "It was a tough decision," admits Schreck. "Joe and I had built a nice little home, but I'd done it, and the Oni fight was going to be a longer fight, and God bless Joe, he's still fighting it."

To the powers that be at DC Comics, high-profile properties such as Batman can't be turned over to just any writer or editor. "We have icons we need to protect and you can't let anyone run roughshod and be an idiot. You have to be protective of them.

"Thankfully I'm at a position where DC trusts me," Schreck says, as he is the man behind the wheel for some of DC's most popular – and thereby most marketable – characters. "It's funny," he says, "Because if you would've asked me ten years ago if I wanted to edit Batman, I would have gone, 'Huh?' If the goal is to get up everyday and do something you absolutely adore, and then realize that they're actually paying you pretty well for it, man, I'm the luckiest sucker there is."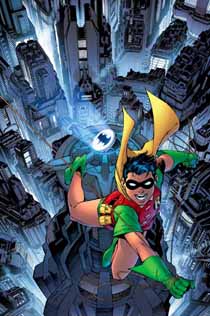 His latest assignment from DC is handling its forthcoming All-Star line, which will consist – for now – of two titles starring two of the world's finest comic book characters, Superman and Batman.
Actually, make that three characters. "I'm editing
Batman & Robin, the Boy Wonder,
" says Schreck "Frank MIller gives me a quarter because I always say Robin the Boy Wonder, and that's what'll be on the cover: Robin the Boy Wonder."
Written by Miller, the book is illustrated by fan-favorite Jim Lee. "Every page, you just go, 'Oh my God!' How can you not fall in love with it? It's gorgeous, it's smart, it's evocative," Schreck boasts.
Schreck feels honored to be able to shepherd such iconic characters, sharing his faith in the creators working under him. "You're dealing with people who know exactly what they're doing."
Grant Morrison is the scribe for
All-Star Superman
, with Frank Quitely handling the art. "He's got it," Schreck says of Morrison. "His overview is beautiful. He's got every issue laid out in his head, putting it on paper. He a pro."
Despite such stellar talent, Schreck enjoys the opportunity of bringing new voices that haven't worked in the realm of comics before. "
Toetags
was a challenge. 'Hey, can I get George Romero to do a comic book? Let me try.' Those types of things are what I want to continue to do. I want to go outside the norm."
"He makes great movies," Schreck says of the horror film maker. "
Dawn of the Dead
is iconic, and
Toetags
had those elements, unlike the remake of
Dawn of the Dead
that had no political context, no satire. What does the power elite do when the dead rise? How do you control them? How do you profit from dead people? And that's what you've got, you've got zombies – Tommy (Castillo, illustrator) did a beautiful job – then you've got George Romero giving it to The Man.
So, what's next for Bob Schreck? "There's something that I can't talk about right now that DC wants me to spearhead, myself and Matt Idleson, as a team, and it's an avenue of comics that they're not doing yet, and it's an avenue that I'm good at. I haven't really stretched my wings at DC to do.
"So there are things happening. The group editorship is changing and we're about to move into two-man teams. There will be no group editor of Superman; there will be no group editor of Batman. It will be two people working on a few books, another two people working on another few books, and they're not going to be grouped."
"So it will be interesting. And people will get all nervous, but one thing you better learn in life early is change is good, because change is inevitable. And if you don't love change, you're going to have a miserable life. I'm looking forward to it."
Praise and adulation? Scorn and ridicule? Email me at philip@comicbookbin.com
Last Updated: September 6, 2021 - 08:15