Truth & Justice: THE AMERICAN WAY
By Philip Schweier
Mar 14, 2005 - 10:55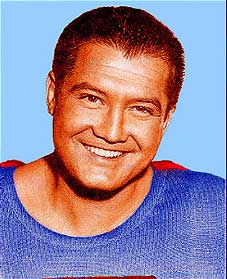 Source: http://members.tripod.com/ CARIART/SUPERMAN-2.html
Ben Affleck as Superman? SAY IT AINT SO!
Well, it aint.
The Bryan Singer's much bally-hooed Superman film is due to begin filming any day in Australia. Its troubled development is well documented, but another Man of Steel related feature has also been struggling in development hell for some time. Truth, Justice And The American Way, depicting the life and career of Superman actor George Reeves, has endured a never-ending battle to be brought to the silver screen.
For several years, the film has made its way through Hollywood, beginning as a project for the cable network USA until it found a home at Miramax.
Now, according to the Internet Movie Data Base Studio Briefing, Ben Affleck has waived his usual multi-million dollar fee (earning only $2.8 million) to play actor George Reeves in an effort to rebuild box office respect. Affleck's most recent big screen efforts have flopped, and he hopes portraying the late Superman actor will impress audiences and resurrect his stalled stardom.
Hollywood may have its way in casting a big name for its big budget biography. Early casting rumors suggested Kyle MacLachlan, Hugh Jackman and Dennis Quaid for the title role. According to a report at IGN.com, Keanu Reeves met with director Allen Coulter, with Viggo Mortensen as a potential second choice.
George Reeves was a real person, and as such he must be cast differently than his comic book counterpart. The star of Truth, Justice & The American Way need not be heroically bigger than life. Nevertheless, casting has proved as complex as casting the Man of Steel himself.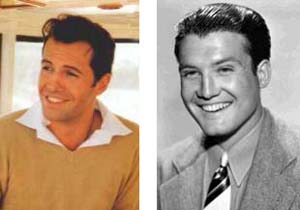 Billy Zane shares Reeves broad smile
Who is my vote for the role? Billy Zane. He shares George Reeves' broad smile. He's no stranger to having worn a super-hero costume, having embraced his role in The Phantom with fan-like fervor.
While A-list stars might help a smaller film by tapping into the fan base, some stories just don't warrant that kind of big budget. In this case, it's greatest appeal is to fans of the old Superman TV show.
What makes the story of George Reeves interesting to the movie-going public is the mystery surrounding his death. On the night of June 16, 1959, police were called to his home in Los Angeles' Benedict Canyon, where Reeves had allegedly shot himself. His nude body was found on his bed, a .30 caliber shell casing underneath him. His fiancé, Lenore Lemmon, claimed they had fought, and Reeves had apparently ended his life alone in the bedroom.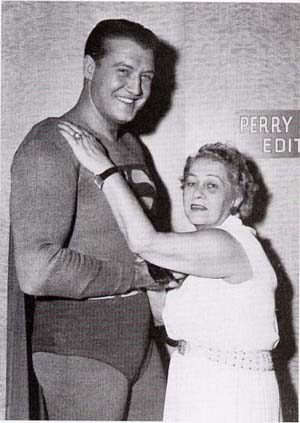 George Reeves and his mother Helen Bessolo
George Reeves was loved by many people, including millions of children who idolized him as their Man of Steel. But perhaps no one loved him more than his mother, Helen Bessolo. She had doted on him his entire life, and never believed her son shot himself. She hired private detectives to independently investigate the shooting, in the hope of discrediting the official ruling of suicide.
Another admirer of Reeves' was his longtime lover Toni Mannix. Though married to MGM Studios vice president Eddie Mannix, their affair was something of an open secret in Hollywood at the time. The relationship began roughly at the same time as his Superman TV series. Ten years older than Reeves, she affectionately referred to him as "The Boy."
He was flat broke when he met Toni Mannix, and she allegedly subsidized his livelihood, paying for vacations and ensuring his comfort. His home in Benedict Canyon and car were in her name. Despite his starring role on what was arguably the number one children's program in the country, the cast of The Adventures of Superman reaped little financial reward for their work. Contracts kept their pay at the minimum, and kept them from taking larger roles in other productions.
Reeves' career had been full of disappointment. He had appeared in the opening scene of one of Hollywood's most famous films, Gone with the Wind, in 1939. Though a promising start, he ended up in bit parts until starring opposite Claudette Colbert in the wartime romance So Proudly We Hail. The film's director, Mark Sandrich, saw the potential in Reeves, and was ready to work with the actor to build his floundering career.
Unfortunately, Reeves was drafted in 1943, and spent the war in the Air Force Special Forces. Unlike A-list stars such as Clark Gable and Jimmy Stewart, it is doubtful Reeves ever saw combat. Instead, he was attached to a motion picture unit where he made training films. Though earnest in his commitment to Reeves' career, Sandrich died before the end of the war, and on his return to Hollywood Reeves was back at square one.
The next few years saw Reeves turning out low-budget productions such as 1948's Jungle Goddess and The Adventures of Sir Galahad in 1949. Then came the Adventures of Superman. When shooting of the first season began in 1951, co-star Phyllis Coates tells how Reeves invited her to his dressing room, poured them each a drink, and offered a toast: "Here's to the bottom of the barrel, babe." While he was hardly enthused about the role, it was a paying job, and doubtful to ever see the light of day.
Initially, 26 episodes were to be made, after which producers would then seek out a sponsor. More than a year after filming was completed on the first season, Kellogg's, who had sponsored the radio program, was signed on for the television show. Another season of 26 episodes was contracted, and the show was back in production.
At the time, television was still a new medium. Putting a weekly show together required writers and directors who were accustomed to working with small budgets and little time. In the case of adventure shows such as Superman and The Lone Ranger, the obvious source for such a crew was in the Saturday afternoon serials. Long on action, these productions were generally aimed at boys 9-14.
But with the advent of television, it became possible for a mother to plop a small child down in front of the TV set while making dinner. Many parents felt the intense action was too much for their smaller children, and Kellogg's apparently agreed. The scripts for Superman were toned down and more room was made for comedic adventures.
At the start of the third season, the cast signed on for another 52 episodes. But unknowingly, Whitney Ellsworth, the executive producer, had sliced the production to only 13 episodes per season. His reason for doing so was this alleviated the often grueling pace of production, while enabling them to afford to shoot episodes in color, a more expensive process.
Cast members didn't see it that way. Locked into the show for the next four years, they also were denied the opportunity for major roles in other films. Contracts stipulated that they could not participate in another production which would last more than 30 days. This limited them to small roles and bit parts in which they often went unnoticed.
After six seasons and 104 episodes, Superman ended production in 1958. At this time, Reeves seemed ready to hang up his cape and move on to new challenges. He began to explore options behind the camera, having directed a handful of episodes. He took a solo trip to New York City in search of opportunities on stage and radio.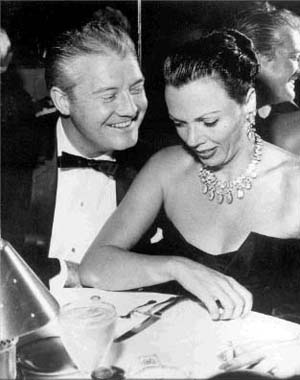 Geroge Reeves and Lenore Lemmon
What Reeves found was Lenore Lemmon, a cafe society girl with a questionable reputation. She eventually joined him back in Hollywood, and Toni Mannix was cast aside. Almost immediately, Reeves began to pay the price for his perfidy. He received numerous harassing phone calls which he claimed were from Toni Mannix. In January 1959, his beloved schnauzer Sam mysteriously disappeared, and it has been said that Toni Mannix took him, though she cared for the dog dearly until its death.
In April, on the way to his home, Reeves was in a single auto car accident, resulting in a five-inch gash to his head that required 27 stitches. Some have suggested that the brakes on his car were tampered with, but newspaper reports attribute the accident to an oil slick on the road, while the gossip tabloids of the day suggest it was due to Reeves' well-documented drinking.
While Reeves may have enjoyed a good drink on a regular basis, most who knew him stop short of calling him an alcoholic. According to those who worked with him, it never got in the way of his work, and he wasn't seen to be noticeably impaired.
Hell hath no fury, but could Toni Mannix actually perpetrate such dastardly deeds on her one-time love? Maybe not, but she seemed to have the right connections. Her husband, Eddie, was reputed to be a studio problem solver in Hollywood circles. In an era when scandal wasn't courted in the name of publicity, he took care of troubled celebrities quietly. If a young starlet had a stalker, he supposedly had the admirer scared off. If a director suffered from drug or alcohol addiction, he saw to it they got the help they needed. Sometimes such problems involved any number of abortion doctors, professional thugs, and other unsavory types of characters.
An environment with so many dubious reputations has clouded the truth of the Reeves shooting for almost 50 years. The only known fact is that he died from a single shot to the right temple from a Luger pistol. Allegations of depression over an unsatisfying career are supported by his unhappiness in his role as Superman, but many of Reeves' friends refute the ruling of suicide.
On June 16, 1959 – the night of the shooting – it is reputed that Reeves and Lemmon returned home after dinner out. It was understood among friends of Reeves that when his porch light was lit, all were welcome, regardless of the hour. This night, Lemmon had neglected to turn the light off. Neighbors Carol Van Ronkel and Bill Bliss came over in search of a late night party. Lemmon was willing, but Reeves was in favor calling it a night. An argument ensued, during which she supposedly ridiculed him as a washed-up has-been. According to Lemmon, the 45-year old actor went upstairs, removed a pistol from his dresser, put it to his head, and pulled the trigger.
No one for sure knows what happened. It is believed by many that Lemmon shot Reeves, either by accident in the course of their argument or by willfully gunning him down in the heat of anger. She was at the very least an opportunist, hitching her wagon to the star of America's number one children's program. Many have alleged that she was nothing more than a prostitute, moving from man to man as money came and went. She was discovered dead in her New York apartment on New Years Day, 1990. Years of alcohol and hard living had taken their toll.
Today, the death of George Reeves remains one of the great mysteries of Hollywood. In the 1996 book Hollywood Kryptonite, by Sam Kashner & Nancy Schoenberger, it is suggested that Reeves was the victim of a hit man hired by either Toni or Eddie Mannix. Longtime Superman fans regard this theory as nonsense (Superman co-star Jack Larson has referred to the book as "Hollywood Kraptonite.")
After several false starts, Truth, Justice And The American Way is scheduled to begin filming this summer. Oscar-winner Adrien Brody co-stars as Lamar Moglio, a fictionalized private eye hired by Reeves' mother to investigate her son's curious death. It is doubtful the movie will shed any light on the truth behind the death of TV's Man of Steel. After 46 years, it's likely that anyone responsible is beyond the reach of justice.
Regardless of who may win the role of George Reeves, movie producers these days no longer have faith in a tale well-told or a script well-acted. They aren't satisfied unless they have an enormous budget with a lot of Tinsel Town star power behind it; lots of fluff, but little substance. Instead of a small, well-crafted niche film which turns a respectable profit, movie producers seem willing to sacrifice quality and potential on the altar of Hollywood in the interest of huge profits.
But that's the American way. •
Last Updated: May 15, 2017 - 12:03