CRACKED is smokin'!
By Philip Schweier
November 9, 2004 - 10:55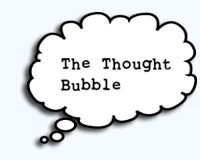 CRACKED is smokin'!



It's a fine line of distinction, one teachers and parents often overlook. But to fans, it's as obvious as the difference between Captain Kirk and Jean-Luc Picard.



CRACKED magazine aint MAD.



While many may regard CRACKED to be an alternative or competitor to MAD, editor Marten Jallad feels otherwise. "I prefer to see it as another great source of visual humor satirizing modern pop culture and the state of our times. Naturally CRACKED bears some similarities to MAD and the other humor titles as they all fall under the same style of visual humor."




For instance, both feature a lovable mascot in unusual situations on the cover. "Sylvester P. Smythe was based on a janitor character from the Jackie Gleason show who would walk on between sets to clean up," explains Jallad. "John Severin - CRACKED's premiere cover artist for over 40 years - so enjoyed this character that he became the magazine's cover mascot, initially shown filling in 'cracks' on the magazine's covers and interiors."



Severin is only one of the many prominent Silver Age artists who have drawn for CRACKED. Others include Gray Morrow, Steve Ditko, and Will Elder. Such variety of talent has allowed the magazine to stay fresh and contemporary, adjusting its look and format as the market requires.




"Where CRACKED differs from MAD is that it has never been as structured per each issue in terms of format as MAD has, only changing in the mid 90's after over 30 yrs," says Jallad.



CRACKED debuted February, 1958, after MAD - originally published as a comic book - switched to a magazine format. Before the end of the 1950s, 17 publications entered the humor/satire market. Other than MAD, CRACKED is the sole survivor of more than 40 different titles published over the years. "Check out DC's 70's comic PLOP with art from Sergio Aragones, Wally Wood, Basil Wolverton, and Bernie Wrightson," suggest Jallad.



In January, 2000 American Media Inc., which publishes WEEKLY WORLD NEWS, aquired the supermarket tabloid THE GLOBE, and with it came CRACKED. Longtime fan Dick Kulpa, an editor with WEEKLY WORLD NEWS, expressed an interest in contributing to CRACKED. American Media CEO David Pecker offered him editorial control.



Ten months later Kulpa purchased the magazine outright. Operating under the MegaMedia banner, he has since been the driving force behind keeping CRACKED alive. This is no small feat in a highly competitive industry.




While the comics industry now features the largest number of publishers ever, overall circulation has been slowly eroding. Humor titles with single panel gags such as CRACKED have been published since the 1920's. Today, they often exist in the shadow of their more popular cousins such as Superman or X-Men.



Despite reduced print runs, the market is an overflowing creative well, featuring the widest variety of titles seen in decades. "Groo, the Wanderer has been a highly successful book that has a humorous slant just like many of the European graphic novels like Tin Tin and Asterix the Gaul," says Jallad. He also cites Frank Cho's Liberty Meadows, an extremely popular Image Comic title.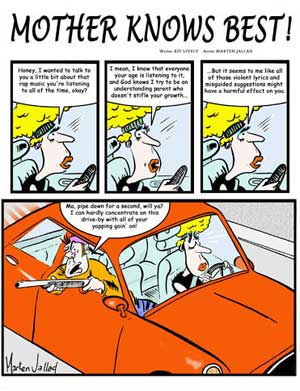 While such diversity widens the market for more humor-based concepts, it can also make it more difficult for publishers to maintain their established niche. "It really boils down to being clever with the writing and premises that we choose," says Jallad. "Our recent approach has been to try to broaden our readership by including more thought-provoking clever satire mixed in with just plain hilarious slapstick gags."



Some humor magazines such as CRACKED or MAD have not accepted advertising, which is a significant source of revenue for comic books. Publishing a Pepsi ad while skewering Coca-Cola two pages later raises too many issues regarding favoritism. MAD has since re-thought this policy, and CRACKED may follow suit, currently searching for advertisers who would be suitable for their demographic.



Ultimately, it boils down to readership, and in an era of growing competition and rising costs, Jallad's strategy is as reader-friendly as it gets. "The magazine has been frugal over the last few years, really focusing on meeting many of our fans at comic book shows around the country," he says.



This meet-and-greet approach seems to be working. "We print around 100,000 with a sell through in the 40's and rising," Jallad says. The magazine publishes approximately six issues annually, with around 25 artists and writers contributing to each. "Many of them are regular contributors but we also have new talent joining us all the time and highly encourage them."




While many comics publishers have abandoned the practice of open-submissions, CRACKED is always on the lookout for fresh new voices. With written material, funny is the primary requirement, as well as if it flows well. Regarding artists, it is necessary for their style to be different enough from others featured in CRACKED, while at the same time remain suitably appropriate for the magazine



Editors also examine their ability to capture likenesses, as well as their skill for continuity gags, drawing the same character from different angles. "Once we accept an artist's work the ability to meet deadlines and to communicate in a timely manner are both key," explains Jallad.



After an editor has identified a good script, they will then guide the writer in the right direction to make it work. The editor is then responsible for pairing that writer with the appropriate artist whose style would best capture the essence of the piece.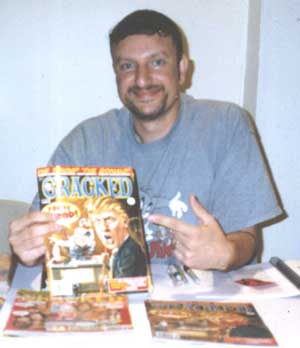 A CRACKED editor must have a strong grasp of the pop culture landscape, being able to pick up on newsworthy people and events that will translate well into visual satire. Seeing that CRACKED comes out on schedule requires the staff to hone these skills in order not to seem obsolete.



An interesting addition to the CRACKED family has been Rick Nielsen of the super group Cheap Trick. As of issue #364 he has been named publisher, even appearing on that issue's back cover with Aerosmith's frontman Steve Tyler. "I think this iconic celebrity will surely garner some attention to the magazine," says Jallad.



CRACKED is also branching out into multi-media. Film Roman, which produces The Simpsons and King of the Hill, is currently working on an animated CRACKED television series. The updated website - www.crackedmag.com - features a brand new message board where fans can chat with many of the creators.




Despite such high-profile projects, it all comes down to promotion and visibility for Jallad and the staff of CRACKED. "People my age generally say 'Wow I remember reading CRACKED as a kid.' Then inevitably say 'I didn't know CRACKED was still around.' "



That's a perception that Jallad is striving to change. "I want everyone to know that we are very much still around and are as funny as ever! Many of the younger people have never heard of CRACKED or MAD for that matter. When they see a copy and realize what it is they love it."



Praise and adulation? Scorn and ridicule? Email me.
Last Updated: September 6, 2021 - 08:15