Comics / Manga / Yaoi Manga
Brilliant Blue: Volume 1 (DokiDoki)
By Leroy Douresseaux
June 9, 2009 - 10:23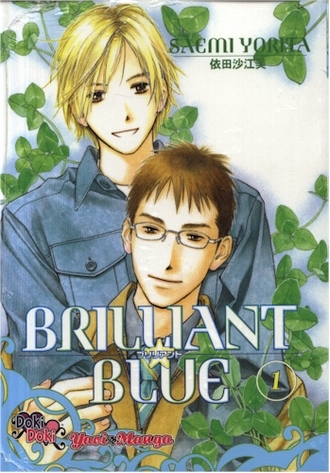 Brilliant Blue 1 cover image is courtesy of Anime Castle Books.
Drama/Romance; Rated "18+ Mature"
In Brilliant Blue, Vol. 1, from creator Saemi Yorita, a young man reluctantly returns home to help his father who is laid-up with an injury. Then, he slowly becomes involved in the troubled life of an old school chum.
After his father injuries his back, Shouzo Mita returns home to run Mita Construction Company until his father can return to work. Shouzo discovers that a lot of things have changed in his hometown, a small city with provincial ways, but one thing has changed. Nanami Ushijima, the former childhood acquaintance, who was a dim-witted, chubby kid, is now a pretty boy who seems to have sparkles around him.
Although he changed from an awkward fat kid to a shojo manga dreamboat, Nanami is still very childlike and still loves to eat. He's also apparently easy to manipulate and is in a peculiar relationship with a manipulative lover, a civil engineer named Douwaki. Shouzo finds himself often thinking about Nanami, but will concerning himself about another's well being cost Shouzo the independence he so cherishes?
THE LOWDOWN: Brilliant Blue has a formula for success that doesn't rest on one thing. Its lead, Shouzo Mita, is a man who is more business than pleasure, and the fact that he's easily embarrassed accentuates the narrative's lighter, comic moments. The co-star, Nanami, is a daffy airhead, who seems to play the dumb blonde role, but his insecurities, self-loathing, and terrible sexual relationship are what make this more than just another romantic drama about two men stumbling towards each other.
Brilliant Blue is certainly a compelling drama, but it's also an interesting workplace romance, and not merely because much of the story takes place at Mita Construction. Perhaps, because so much of what connects Shouzo and Nanami comes out of work related issues, Brilliant Blue becomes more than just a grab-ass fest that takes place at work. It's about two people connecting for reasons other than sexual gratification. Creator Saemi Yorita's evocative, delicate line work perfectly captures this series' gentle nature, bittersweet frame of mind, and its aura of bonding.
POSSIBLE AUDIENCE: Readers looking for something sad, yet deeply romantic will enjoy Brilliant Blue.
A-

www.digitalmanga.com
www.akadot.com
Shop for Yaoi Delights.
Last Updated: January 24, 2022 - 11:00