Comics / Comic Reviews / More Comics
Breath of Bones: A Tale of the Golem #1 Advanced review
By Leroy Douresseaux
June 11, 2013 - 08:55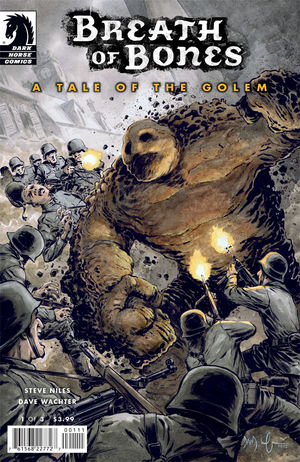 Breath of Bones: A Tale of the Golem #1 cover image
Part 1 of 3
Breath of Bones: A Tale of Golem is a new miniseries from scripter Steve Niles (who wrote the story with Matt Santoro) and artist Dave Wachter. The series concerns the giant clay monster of Jewish legend and its battle against Nazis.
Breath of Bones: A Tale of the Golem #1 opens in April 1944 and focuses on Noah, a young soldier. In the heat of battle, Noah recalls his youth, watching his father and the other men of his small European Jewish village leave for battle. Days turn into weeks as he awaits his father's return. Then, he meets injured British pilot, Simon Richards.
THE LOWDOWN: For the most part, how many readers care what I think? I imagine in the scope of things that Dark Horse Comics cares more about a review at Comic Book Resources or at Newsarama than at the ComicBookBin. That is regardless of how long I or the Bin have done this or how many reviews the site has published or I have written.
But I'll tell y'all what I think of this comic book anyway. I really like Breath of Bones: A Tale of the Golem. There is a touch of humanity about it that is similar to James Vance and Dan Burr's recent graphic novel, On the Ropes. I'm not one of those people that get wood whenever I hear that Steve Niles is writing a new scary comic book. I don't think he's the Stephen King of American comic books, but still, I'm touched by his new work.
For the most part, the first issue of Breath of Bones: A Tale of the Golem is a historical drama about the home front during wartime. The lovely art by Dave Wachter is perfect to tell this story of a small village in Europe. The lovely ink wash texture helps to evoke the sense of longing and also the threat of danger on the horizon. Is this hand-drawn ink wash or computer-aided? I'll be disappointed if it's the latter. Bring on #2.
POSSIBLE AUDIENCE: People who want good comics want Breath of Bones: A Tale of the Golem.
Rating: 9 /10
Last Updated: January 24, 2022 - 11:00