First New Winnie-the-Pooh Book Coming Soon
By The Editor
Sep 29, 2009 - 9:19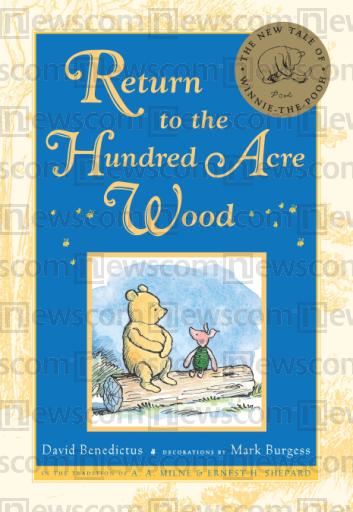 Return to the Hundred Acre Wood cover image from PRNewswire
Fans Get Sneak Peek at New Winnie-the-Pooh
Penguin Young Readers Group reveals cover and first chapter of highly-anticipated sequel to the original Winnie-the-Pooh books Return to the Hundred Acre Wood on sale October 5, 2009
NEW YORK, Sept. 28 /PRNewswire/ -- Dutton Children's Books, an imprint of Penguin Young Readers Group, today revealed the much-anticipated cover and first chapter including art of Return to the Hundred Acre Wood, the first authorized sequel to A.A. Milne's Winnie-the-Pooh and The House At Pooh Corner in more than 80 years. This is the first glimpse readers will have of the new book, which was announced in January 2009. No review copies have been released, and the manuscript has been under lock and key at Penguin since it was delivered earlier this year. The remainder of the book is embargoed until October 5th when it lands in stores nationwide.
Written by David Benedictus and illustrated by Mark Burgess, Return to the Hundred Acre Wood continues the adventures of Christopher Robin, Winnie-the-Pooh, Tigger, Piglet, Eeyore and friends. Egmont Publishing will publish the book simultaneously in the UK. Penguin Audio will publish an audio version of the book read by Grammy Award-winner Jim Dale. The book has an announced first printing of 300,000.
The first chapter of Return to the Hundred Acre Wood, including new art by Mark Burgess, can be viewed at www.penguin.com/pooh.
Across the country, fans young and old are rediscovering the charm of Winnie-the-Pooh. Bookstores nationwide have created "Pooh-tiques", dedicated spaces for Winnie-the-Pooh and friends. Many of these stores are hosting Pooh tea parties leading up to October 5. Tea parties include honey flavored food, count-the-honey-candies-in-the-jar contests, story times with favorite Pooh books, bring-your-favorite-bear-from-home story times, and activities such as "pin the tale on Eeyore."
Dutton's Publishing History With Winnie-the-Pooh:
Dutton officially introduced Christopher Robin and his "silly old bear" to the US in 1926 with the publication of Winnie-the-Pooh by A.A. Milne and illustrated by E.H. Shepard. However Pooh had a significant walk-on role in 1924 with the publication of When We Were Very Young by A.A Milne with illustrations by E.H. Shepard. Milne and Shepard went on to collaborate on two more titles: Now We Are Six in 1927 and The House At Pooh Corner, which introduced Tigger, in 1928. Together, these four books form the basis of the original Pooh books. Newly-designed editions of all four books were published September 3rd.
Author David Benedictus' manuscript was inspired by his familiarity with Winnie-the-Pooh's adventures after having worked on Audio CD adaptations of previous Winnie-the-Pooh stories. David has collaborated with illustrator Mark Burgess to create what is sure to become another treasured Winnie-the-Pooh book. Grammy Award winner Jim Dale will read the audio version of the book, which will be released simultaneously by Penguin Audio.
Writer David Benedictus adapted and produced the audio adaptations of Winnie-the-Pooh starring Dame Judi Dench, Stephen Fry and Jane Horrocks. His second novel was filmed by Francis Ford Coppola. He has worked as assistant to Trevor Nunn at the RSC, was Commissioning Editor for Drama series at Channel 4, and ran The Book At Bedtime for BBC Radio.
Illustrator Mark Burgess has illustrated countless classic children's characters including Paddington Bear and Winnie-the-Pooh. He also designs greetings cards, web sites, animations and special warm places for his cat to sleep.
Dutton Children's Books is one of the oldest continually operating children's book publishers in the United States. Established more than 150 years ago, the imprint publishes approximately 75 hardcover titles each year, for children from preschool through high school. Dutton is home to such perennial classics as Winnie-the-Pooh, Judy Blume's Fudge novels, Newbery Award-winners such as The Westing Game and My Side of the Mountain, and Caldecott winners and honor books including Rapunzel by Paul O. Zelinsky.
Penguin Group (USA) is the U.S. affiliate of the internationally renowned Penguin Group. Penguin Group (USA) is one of the leading U.S. adult and children's trade book publishers, owning a wide range of imprints and trademarks including Berkley Books, Dutton, Frederick Warne, G. P. Putnam's Sons, Grosset & Dunlap, New American Library, Penguin, Philomel, Plume, Puffin Books, Riverhead Books and Viking, among others. The Penguin Group is part of Pearson (FTSE: PSON; NYSE: PSO). Pearson is an international media company with market leading businesses in education, business information and consumer publishing. For more information, visit www.pearson.com.
Last Updated: Jun 26, 2018 - 9:28