Comics / Manga / Yaoi Manga
Bond of Dreams, Bond of Love: Volume 4 yaoi manga review
By Leroy Douresseaux
May 16, 2013 - 10:17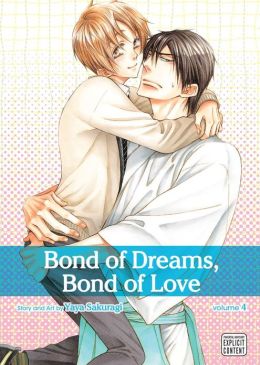 Bond of Dreams, Bond of Love Volume 4 cover image is courtesy of barnesandnoble.com.
Rated "M" for "Mature"
Bond of Dreams, Bond of Love, the four-volume yaoi manga series from creator, Yaya Sakuragi (the creator of Tea for Two), comes to an end. The series focuses on Ao, a high school student who falls in love with Ryomei, whom Ao has known since he was a child. Ryomei, who is several years older than Ao, ignores the younger man's advances. Yaoi manga is a subset of boys' love manga (BL) and features explicit depictions of sex between male characters.
As Bond of Dreams, Bond of Love, Vol. 4 (Acts 14 to 18) opens, Ryomei and Ao finally become intimate. Ao should be happy, but he starts to believe that their first time was merely pity sex. Ao has also been living with his Grandma Teruko, but now, she finally insists that Ao move in with his estranged mother. Moving also means being farther away from Ryomei. What can Ao do? Can he accept Ryomei's newfound affection as real? Can Ryomei help Ao and finally express his love for him? The drama of not-so-unrequited love must finally reach a conclusion – happy or sad.
THE LOWDOWN: The Bond of Dreams, Bond of Love manga is the epitome of the seme (guy on top)-uke (guy on bottom) dynamic in yaoi manga. Ryomei is tall, dark, and handsome, and when he wears his priestly vestments (as he is a shrine priest), he looks like a dashing samurai. With his small frame, tousled hair, and large, expressive eyes, Ao is the quintessential, smitten, BL girlish teen boy – ready to stand by and to love his man.
Jokes aside, Bond of Dreams, Bond of Love Volume 4 is deeply romantic. I have not read the prior three volumes, and had not heard of the series until my SuBLime media rep sent me a copy of Vol. 4. I'm glad I read this. It is the comfort food version of yaoi manga reading material; the depictions of sex are more about lovemaking and being sweet than being raunchy, erotic, or even funny. There are two lovey-dovey side stories to spike your blood sugar even higher, but this volume is a good way to end a series.
POSSIBLE AUDIENCE: Readers looking for sugary yaoi manga from the dessert cart will want Bond of Dreams, Bond of Love.
Rating: B+ /10
Last Updated: September 6, 2021 - 08:15