Bokurona: Ours Volume 6
By Leroy Douresseaux
June 11, 2012 - 15:14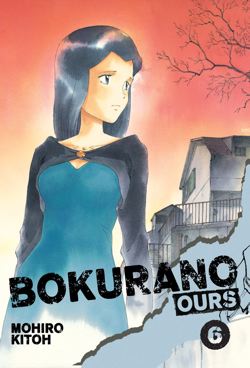 Bokurano Ours Volume 6 cover image is courtesy of Anime Castle Books.
Rated "T+" for "Older Teen"
After giant robots start invading Earth, the key to mankind's survival becomes a towering mecha known as Zearth. This iron giant draws its strength from 15 teenagers, none of them yet in high school. By giving Zearth their power, however, these teens are sacrificing their lives. Each one who assumes the captain's chair dies.
Bokurano: Ours, Vol. 6 begins with Chapters 2 through 4 of Yosuke Kirie's story. After the death of Chizuru Honda, Kirie wants answers from the man who raped her. Later, Kirie talks to Tanaka about what it means to kill. Next, Takami Komoda prepares to take the captain's chair, but she is also preparing for a piano recital. When it is time to lead Zearth, Komoda learns that the captain of the enemy robot has abandoned his post.
THE LOWDOWN: I wrote previously that I thought that Japanese comic book creators were unusually adept at creating comic books that are genuinely for children, but are not entirely juvenilia and escapist fantasy. The Bokurano: Ours manga is an example of that. This volume is especially strong in teen melodrama and teen angst, and Mohiro Kitoh plays it well.
Sometimes, you might forget that this manga has giant robots, but I'm reluctant to say that Bokurano: Ours is about giant robots. It has anti-war themes, but the series explores the trials and tribulations of that pre-teen early teens gray area. It does it quite well.
POSSIBLE AUDIENCE: Readers looking for science fiction teen drama will find that in Bokurano: Ours.
Rating: B+ /10
Last Updated: January 24, 2022 - 11:00