B.O.D.Y.: Volume 9
By Leroy Douresseaux
April 28, 2010 - 13:59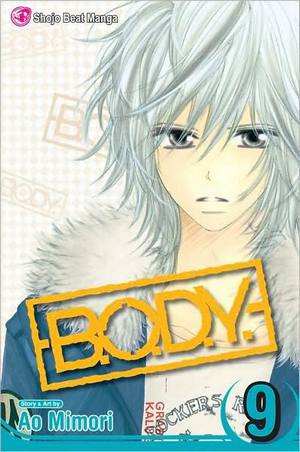 B.O.D.Y. Volume 9 cover image is courtesy of barnesandnoble.com.
Rated "T+" for "Older Teen"
Sixteen-year-old Ryoko Sakura has weird tastes in guys, and she certainly picked a strange one in Ryunosuke Fuji. Ryunosuke works at a host club, where women pay men to date them, and he's a host. Ryoko went from having a crush on Ryoko to being repulsed by him. Once he discovered that Ryoko was smitten with him, Ryunosuke teased her until he broke down her defenses. Now, Ryoko is hopelessly in love with him.
As B.O.D.Y., Vol. 9 begins, Ryunosuke finds Ryoko at a concert, on stage with another guy, Kurama, who has just declared his love for Ryoko. And the Rasputin behind this love triangle is Miss Izumi, a high school teacher who is madly in love with Ryunosuke. In the aftermath, Ryoko and Ryunosuke's relationship suffers, and Ryunosuke's secrets come to the fore.
THE LOWDOWN: Creator Ao Mimori's beautiful art is not even the highlight of B.O.D.Y., and it certainly is beautiful. Mimori has a knack for drawing faces; she emphasizes large, expressive eyes and hair that falls across those pretty faces in sexy strands or like drapery. Drawn at interesting angles, this is the perfect visual language for telling comic book stories of teen love.
The highlight of B.O.D.Y. is the story. In fact, these stories of young love are full of emotion, turmoil, and outrageous scandal that would give television soap opera writers pause. But the reader won't pause when devouring these sweet, wicked tales of tumultuous teen love.
POSSIBLE AUDIENCE: Part of the "Shojo Beat" line of manga, B.O.D.Y. is for the shojo reader who wants her love stories with a dash of hot sauce.
A-
Last Updated: August 31, 2023 - 08:12