B.O.D.Y.: Volume 6
By Leroy Douresseaux
July 21, 2009 - 14:42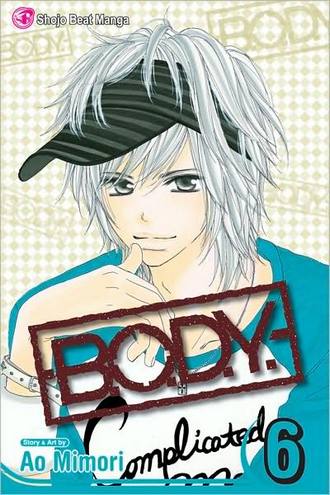 B.O.D.Y. Volume 6 cover image is courtesy of barnesandnoble.com.
Rated "T+" for "Older Teen"
Ryoko Sakura has a crush on Ryunosuke Fuji, the guy who sits next to her in class. The 16-year-old Ryoko has weird tastes in guys, and she certainly has picked a strange one in Ryunosuke. The shocker is that Ryunosuke works at a host club, where women pay men to date them, and he's a host. Ryoko goes from can't-stop-drooling-over-him to being repulsed by Ryunosuke. Once he discovers that Ryoko is smitten with him, Ryunosuke teases and torments her to break down her defenses. He drives her crazy, but she's hopelessly in love!
B.O.D.Y., Vol. 6 opens with the aftermath of the ski cabin events depicted in Vol. 5. Ryoko, Ryunosuke, and Ryoko's friend, Asuka Miyake, planned to spend winter break in a rented ski cabin. Asuka brought along her new boyfriend, Kousuke Shirai, who happens to be a rival host embittered at Ryunosuke. Asuka, who had refused to believe that Kousuke was a host, found a card from a host club in his wallet.
While Ryoko recuperates from some injuries, Asuka confronts Kousuke, who is as cruel as he can be when he tells her the truth. But Asuka won't give up that easily! Meanwhile, Ryunosuke gets not one, but two surprise visits.
THE LOWDOWN: Despite its outrageous premise – teens working as prostitutes – B.O.D.Y. is a clever character drama that focuses less on sex and more on the good and bad of young love. Creator Ao Mimori's beautiful art, however, is perfect for Vol. 6's emphasis on love's labor won – the stubborn pursuit of someone playing hard to get. The visual and graphic motifs of shojo art are well in evidence here, but they make the two storylines featured in this volume seem a lot more sweetly romantic than they really are.
POSSIBLE AUDIENCE: Part of the "Shojo Beat" line of manga, B.O.D.Y. offers a tart respite from sugary shojo high school romance.
A-
Last Updated: February 5, 2023 - 09:06