Comics / Manga / Yaoi Manga
Blue Morning: Volume 3 yaoi manga review
By Leroy Douresseaux
November 20, 2013 - 12:41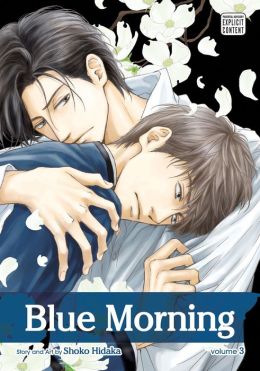 Blue Morning Volume 3 cover image is courtesy of barnesandnoble.com.
Rated "M" for "Mature"
Blue Morning is a yaoi manga graphic novel series from creator Shoko Hidaka. The series focuses on Akihito Kuze, the heir to a viscount-ship, and Tomoyuki Katsuragi, his very capable butler, to whom he is attracted.
After the death of his father, Akinao Kuze, 10-year-old Akihito moves into the Kuze mansion, as he prepares to inherit his late father's viscount-ship. There, he meets the Kuze family butler, Tomoyuki Katsuragi, who is tasked with raising Akihito. By the time he is 17-years-old, Akihito finds himself relentlessly drawn to Katsuragi, but frustrated by the distance between them.
Blue Morning, Vol. 3 (Chapters 11 to 15) opens with surprising news for Katsuragi. The servants inform him that Akihito has now decided to handle Kuze family's business interests himself. It is a big leap for the young man, but his other changes to the household constitution may prove to be too much for household members to accept.
Akihito is so firmly focused on his future that he considers marriage and begins to court 15-year-old Chikako, the daughter of Duke Sajo. Akihito asks the father of his friend, Soichiro Ishizaki, to act as a go-between in the marriage talks. The father, a merchant, is willing, but what he wants in return may be too much for Akihito to give.
THE LOWDOWN: The Blue Morning manga does occasionally earn its "yaoi" label by depicting sex between its male leads, but depicting sex seems to be the least of creator Shoko Hidaka's concerns. This series is a character drama which seems to focus on three things: a star-crossed romance, family history, and intrigue among the nobility and upper crust of society.
As such, it is an excellent read, and Blue Morning Volume 3 may be the best volume yet. Hidaka always draws me in, slowly, with an easy pace, even in the scenes involving a shocking reveal. Before I know it, I have bought into the plot, conflicts, motivations, and characters. Maybe, Blue Morning is "Masterpiece Theatre" for the boys' love set.
POSSIBLE AUDIENCE: Boys' love readers who enjoy period dramas will enjoy Blue Morning.
Rating: A /10
Last Updated: September 6, 2021 - 08:15