Comics / Manga / Yaoi Manga
Blue Morning: Volume 2 yaoi manga review
By Leroy Douresseaux
August 21, 2013 - 16:49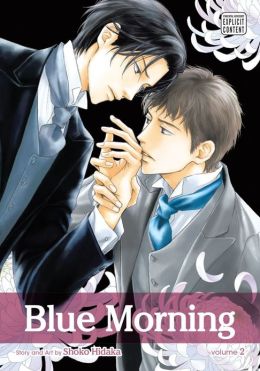 Blue Morning Volume 2 cover image is courtesy of barnesandnoble.com.
Rated "M" for "Mature"
Blue Morning, the yaoi manga graphic novel from creator Shoko Hidaka, introduces Akihito Kuze. He is the heir to the viscount-ship of his late father, Akinao Kuze. After the death of his father, Akihito, at the age of 10, moves into the Kuze mansion. There he meets the Kuze family's very capable butler, Tomoyuki Katsuragi, who is tasked with raising Akihito. By the time he is 17-year-old, Akihito finds himself relentlessly drawn to Katsuragi, but frustrated by the distance between them.
Blue Morning, Vol. 2 opens with a flashback. Akinao Kuze, who is still living at the time, assigns a large number of books for reading and study to Katsuragi, his prodigy of sorts. Whatever plans that Kuze has for his young protégé are put on hold with the announcement that a male Kuze child has been born.
Back in the present, Akihito has physically consummated his relationship with Katsuragi (i.e. had sex with the dude). Now, he wants to grow closer to and more intimate with the butler, but Katsuragi's attitude towards his young charge remains emotionally cold. Now, Akihito is about to make a deal with Katsuragi, one that he hopes will keep the butler in the fold and maybe in his bed. However, a party at the Marquise Moriyama complicates the matter with surprise appearances and shocking revelations.
THE LOWDOWN: The Blue Morning manga earns its "yaoi" label by depicting sex between its male leads. Blue Morning Volume 2 offers some intense lovemaking, but this manga isn't necessarily about sex. Obviously, Akihito wants to have passionate physical contact with Katsuragi, but this story is strongly romantic and is about a committed relationship that could be the equivalent of marriage. The conflict is that neither of these young men wants exactly the same thing, and the differences are just enough to create believable tension. This relationship/romance could turn out bad for a number of people.
The high-society intrigue and class conflict (especially regarding the peerage system) make this manga seem like a comic book adaptation of something from "Masterpiece Theatre." Of course, Downton Abbey does not "get down" like Blue Morning gets down.
POSSIBLE AUDIENCE: Boys' love readers who enjoy period dramas will enjoy Blue Morning.
Rating: B+ /10
Last Updated: September 6, 2021 - 08:15