Bloody Mary: Volume 8 manga review
By Leroy Douresseaux
January 15, 2018 - 20:02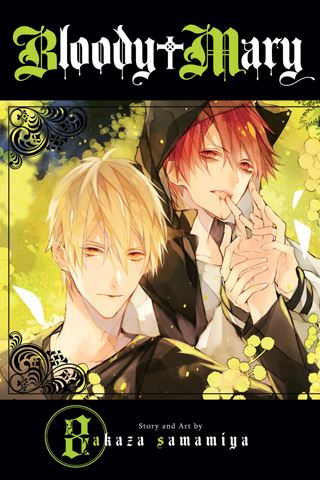 Bloody Mary Graphic Novel Volume 8 cover image
Rated "T" for "Teen"
A high school student and a priest,
Ichiro Rosario Di Maria
also has the "
Power of Exorcism
," which enables him to kill vampires. He meets the vampire,
Bloody Mary
, who is unlike most vampires because he is both immortal and has red hair. Bloody Mary wants to die, and Ichiro offers to kill him, but first... Maria wants to kill every other vampire on Earth, and Mary will be his bodyguard.
As
Bloody Mary

, Vol. 8
(Chapters 29 to 32) opens, Mary's alter-ego, "
Mary
," a vicious vampire, not only emerges, but also becomes the dominate personality. But "Mary" was once Bloody Mary's twin brother. How did he become a vampire? How did he become one with Bloody Mary? History comes forward, and Ichiro blames himself. He goes to Hydra, a vampire who hates "Mary," for help.
[This volume includes bonus manga content, "A Colloquy on Food," "The Return of 'Colloquy on Food and'" "The Revenge of 'A Colloquy on Food'" a postscript.]
THE LOWDOWN:
As I have said before, I like the Bloody Mary manga because I like vampire manga, especially of the "Shojo Beat" variety, and Bloody Mary is a "Shojo Beat" vampire manga. The series continues to get stronger with each volume, as more characters and subplots arise.
Bloody Mary Graphic Novel Volume 8
seems to be the launching point for some kind of small vampire war. As "Mary" takes over, series creator
Akaza Samamiya
brings forward more conspiracies and also more conflicts and old feuds. Perhaps, the best of Bloody Mary is yet to come, and I can say that the story always offers some surprise.
I READS YOU RECOMMENDS:
Fans of vampire manga will want to taste the Shojo Beat title,
Bloody Mary
.
A
8 out of 10
Rating: 8 /10
Last Updated: August 31, 2023 - 08:12