Bloody Mary: Volume 7 manga review
By Leroy Douresseaux
August 2, 2017 - 06:40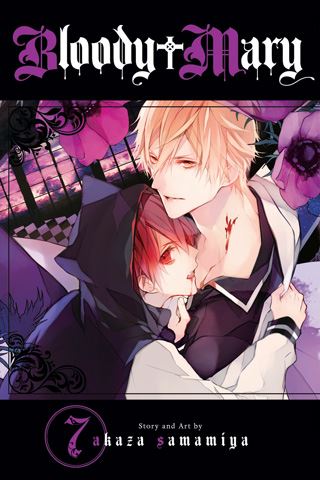 Bloody Mary Volume 7 cover image
Rated "T" for "Teen"
A high school student and a priest,
Ichiro Rosario Di Maria
also has the "
Power of Exorcism
," which enables him to kill vampires. He meets the vampire,
Bloody Mary
, who is unlike most vampires because he is both immortal and has red hair. Bloody Mary wants to die, and Ichiro offers to kill him, but first... Maria wants to kill every other vampire on Earth, and Mary will be his bodyguard.
As
Bloody Mary

, Vol. 7
(Chapters 25 to 28) opens, Maria and Shinobu discovers that the Sakuraba Estate has been attacked by vampires. This trio of vampires have stolen the body of
Yzak Rosario Di Maria
, Ichiro's long-lived vampire. Mary tracks them down, but ends up weak and unstable and suffering from memory loss. Can Maria help him? Does he know how to help him?
[This volume includes bonus manga content, "A Colloquy on Their Three Names" and "A Wall is But a Wall."]
THE LOWDOWN:
I like the Bloody Mary manga because I like vampire manga, especially of the "Shojo Beat" variety, and Bloody Mary is a "Shojo Beat" vampire manga. The series continues to get stronger with each volume, as more characters and subplots arise.
Bloody Mary Volume 7
focuses on an interesting trio of vampires, and this trio's appearance means the arrival of one, possibly two new powerful, female, vampire characters. Creator
Akaza Samamiya
continues to play with Bloody Mary's fractured memories and dual personalities, and that promises to make this manga even more enjoyable, from the standpoint of characters and conflicts.
I READS YOU RECOMMENDS:
Fans of vampire manga will want to try the Shojo Beat title,
Bloody Mary
.
B+
7 out of 10
Rating: 7 /10
Last Updated: August 31, 2023 - 08:12