Bloody Mary: Volume 6 manga review
By Leroy Douresseaux
March 17, 2017 - 15:35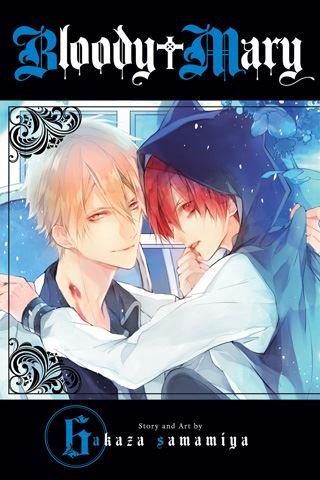 Bloody Mary Volume 6 cover image
Rated "T" for "Teen"
A high school student and a priest,
Ichiro Rosario Di Maria
also has the "
Power of Exorcism
," which enables him to kill vampires. He meets the vampire,
Bloody Mary
, who is unlike most vampires because he is both immortal and has red hair. Bloody Mary wants to die, and Ichiro offers to kill him, but first... Maria wants to kill every other vampire on Earth, and Mary will be his bodyguard.
As
Bloody Mary

, Vol. 6
(Chapters 21 to 24) opens, Maria meets Bloody Mary's alter ego, "
Mary
." This red-haired vampire claims that he is separate and that he needs Bloody Mary to regain his memories. If Maria helps him, then, "Mary" has a reward for him. Maria also learns that Bloody Mary was once such a vicious vampire that he was known simply as "
Bloody
." Bloody Mary claims ignorance in all this, so Maria may have to seek help from someone from his past.
[This volume includes bonus manga content, "A Colloquy on 400 Years Ago" and "A Colloquy on Pain."]
THE LOWDOWN:
The
Bloody Mary
manga is a vampire manga, and I like vampire manga, especially of the "Shojo Beat" variety. I think the series gets stronger with each volume, as more characters and subplots arise, and the narrative grows stronger as it grows more complicated.
Bloody Mary Volume 6
epitomizes that. What's at stake? What are the lines of conflict? What is true and what is false about the past. Who wants what and what are they willing to do to get.? Vol. 6 either answers such questions or gets close to the answers. I think Vol. 6 starts to deliver a payoff to readers who have patiently followed this narrative since the beginning.
I READS YOU RECOMMENDS:
Fans of vampire manga will want to try the Shojo Beat title,
Bloody Mary
.
A-
Rating: A- /10
Last Updated: February 5, 2023 - 09:06