Bloody Mary: Volume 5 manga review
By Leroy Douresseaux
January 27, 2017 - 20:01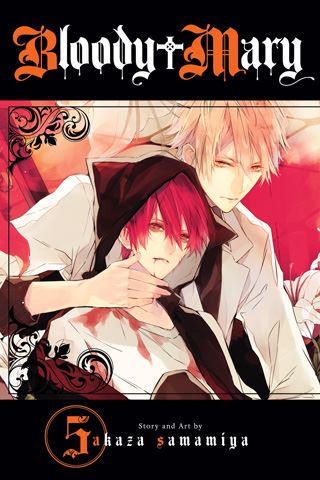 Bloody Mary Volume 5 cover image
Rated "T" for "Teen"
He is a high school student and a priest.
Ichiro Rosario Di Maria
also has the "
Power of Exorcism
," which enables him to kill vampires. He meets the vampire,
Bloody Mary
, who is unlike most vampires because he is both immortal and has red hair. Bloody Mary wants to die, and Ichiro offers to kill him, but first... Maria wants to kill every other vampire on Earth, and Mary will be his bodyguard.
As
Bloody Mary

, Vol. 5
(Chapters 17 to 20) opens, Maria and Mary are in London to find the mentor who taught Maria's uncle,
Shinobu Yuki
, how to fight vampires. Maria hopes that this mentor has the information that will help him regain his "power of exorcism." The visit also stir up memories of Bloody Mary's past.
[This volume includes bonus manga content and the story, "Could Mary Die If He Were a Prostitute in the Edo Period's Yoshiwara Red-Light District?"]
THE LOWDOWN:
I like vampire manga, especially of the "Shojo Beat" variety. The
Bloody Mary
manga continues to grow on me. As the series adds more characters and subplots, the narrative grows stronger as it grows more complicated.
Bloody Mary Volume 5
is a pivotal volume, I think. They encounter new characters and discover more people who muddy the waters of
Bloody Mary
's past, but make him more intriguing. Maria's past seems cloaked in blood and drama, and the more that is revealed, the better. I was right to think that this manga would get better with each volume.
I READS YOU RECOMMENDS:
Fans of vampire manga will want to try the Shojo Beat title,
Bloody Mary
.
B+
Rating: B+ /10
Last Updated: August 31, 2023 - 08:12