Bloody Mary: Volume 3 manga review
By Leroy Douresseaux
November 22, 2016 - 21:44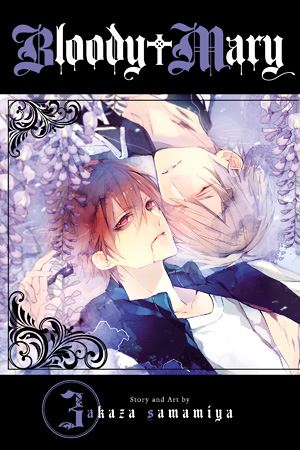 Bloody Mary Volume 3 cover image
Rated "T" for "Teen"
A high school student and priest,
Ichiro Rosario Di Maria
has the "Power of Exorcism," which enables him to kill vampires. He meets the vampire,
Bloody Mary
, who is unlike most vampires because he is both immortal and has red hair. Bloody Mary wants to die, and Ichiro offers to kill him, but first... Maria wants to kill every other vampire on Earth, and Mary will be his bodyguard.
As
Bloody Mary

, Vol. 3
(Chapters 9 to 12) opens, a tale is retold – the story of Maria's grandfather and why he wants to die. Back in the present, Maria and
Hydra
, the female vampire who wants to kill Mary, move to rescue the captured Mary. But Maria discovers that there is more to Mary...
[This volume includes bonus manga content.]
THE LOWDOWN:
Dear readers, you know enough that I am a sucker for vampire manga. I was, however, not sure that I would like the
Bloody Mary
manga, one reason being that I have a minor hang-up about men with the names Maria and Mary.
Bloody Mary Volume 3
helps me move past such hangups. I am intrigued by this vampire manga, in which several of the characters have some kind of death wish. There seems to be a small group of characters forever yelling Kill me. No, kill me. Wait, you're supposed to kill me... I'm not sure what, but there is something interesting about this
Bloody Mary
, and it is building. I think this manga will get better with each volume.
I READS YOU RECOMMENDS:
Fans of vampire manga will want to try the Shojo Beat title,
Bloody Mary
.
B+
Rating: B+ /10
Last Updated: August 31, 2023 - 08:12