Bloody Mary: Volume 2 manga review
By Leroy Douresseaux
March 18, 2016 - 19:37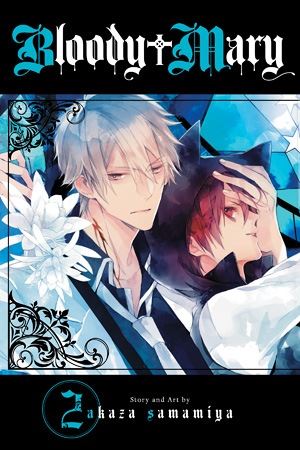 Bloody Mary Volume 2 cover image
Rated "T" for "Teen"
Ichiro Rosario Di Maria
has the "
Power of Exorcism
," which enables him to kill vampires. He meets the vampire,
Bloody Mary
, who is unlike most vampires because he is both immortal and has red hair. Bloody Mary wants to die, and Ichiro offers to kill him, but first... Ichiro wants to kill every other vampire on Earth, and Mary will be his bodyguard.
As
Bloody Mary

, Vol. 2
(Chapters 5 to 8) opens,
Takumi Sakuraba
, Ichiro's life-long friend, meets someone who looks like his pal. This isn't Ichiro, though; it is
Yzak Rosario di Maria
, Ichiri's paternal grandfather. Yzak has secrets to reveal and wants Takumi to kidnap Mary.
Meanwhile, Mary digs into his past and unearths "Red Memories" that he has suppressed. Now, he is sure that he met Ichiro long ago, but tragedy may be involved with that first encounter.
[This volume includes bonus manga content.]

THE LOWDOWN:
Anyone who has read enough of my reviews may have already figured out that I am a sucker for vampire manga. Still, I was not sure that I would like the
Bloody Mary
manga. For one thing, I have a minor hang-up about men with the name Mary.
I have to admit that I was halfway through
Bloody Mary Volume 2
before I started to warm up to the manga. I think that I am intrigued by both this series' internal mythology and by the possibility of a past full of secrets, which series creator Akaza Samamiya teases. I must also admit that I am not really buying the tepid boys' love dynamic between Ichiro and Mary.
POSSIBLE AUDIENCE:
Fans of vampire manga will want to try a
Bloody Mary
.
B
Last Updated: February 5, 2023 - 09:06