Comics / Manga / Yaoi Manga
Blood Honey (Yaoi)
By Leroy Douresseaux
Mar 11, 2010 - 10:43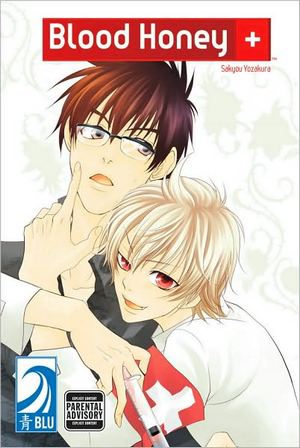 Blood Honey cover image is courtesy of barnesandnoble.com
Romance/Comedy Rated "M" for "Mature"
Blood Honey is a yaoi manga from creator Sakyou Yozakura. A collection of interconnected stories, Blood Honey focuses on a nurse who loves the sweet taste of blood, his honey pot (a donor), and their circle of relatives and friends.
Yuki Akabane is a nurse descended from a line of vampires, but he doesn't have any of the vampire's traits or abilities, except for a taste for blood. Osamu Mayuzumi is a cram school teacher. He visits the hospital to donate blood so often that Yuki calls him a "donor nut." After taking a sip of Mayuzumi's blood on whim, Yuki finds the taste so good that he craves more. Now, Yuki is trying to get closer to Mayuzumi, and surprisingly, Mayuzumi is also trying to get closer to Yuki. But will their conflicting reasons for getting together derail their relationship?
The short story, "Blood Honey," offers a neat spin on vampires, but its romance is fairly standard. This is a basic mismatched couple story, which even comes with a rival in the form of Yuki's boss, Dr. Shimizu. It is fun to read, and Yozakura's pretty art is a kind of honey of its own. Strange as this may sound, some of the art reminded me of Walt Disney's Peter Pan. The way Yozakura draws the impish Yuki Akabane often resembles Tinkerbell from Peter Pan. Yes, it's true. A yaoi manga-ka has seemingly channeled the spirit of Marc Davis. Davis, one of Walt Disney's "Nine Old Men," was the designer and lead animator on the Tinkerbell character for classic 1953 animated film that brought J.M. Barrie's characters to life.
That's not the only bonus. The best character in this collection is not even the lead. It is Yuki's nephew, Kiri Kurosu, who appears in two stories and is the lead in one of them. An unapologetic brat, Kiri has inherited from his vampire ancestors the ability to charm and subjugate people to his will. Kiri is a scene stealer when he is a supporting character and an outright star who shines brightly when he is the lead. This saucy, yaoi take on the blonde bombshell makes what could have been an ordinary manga truly exceptional. Encore! Encore!
A-
Read more of my work at www.negromancer.com
Last Updated: Jun 26, 2018 - 9:28