Bleach: Volume 54 manga review
By Leroy Douresseaux
January 1, 2013 - 12:31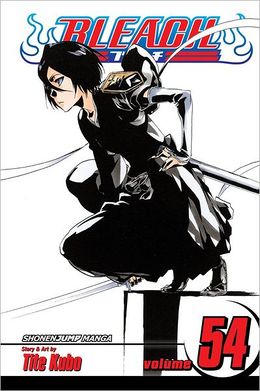 Bleach Volume 54 cover image is courtesy of barnesandnoble.com.
Rated "T" for "Teen"
He never asked for the ability to see ghosts, but he can. It is a gift/curse with which Ichigo "Strawberry" Kurosaki was born. Ichigo met Rukia Kuchiki, who introduces him to the world of the Soul Society. Ichigo becomes a Soul Reaper, dedicated to protecting the innocent from tortured spirits and also to helping those spirits find peace. Ichigo eventually defeats renegade Soul Reaper, Lord Sôsuke Aizen, but it costs him his Soul Reaper powers.
As Bleach, Vol. 54 (entitled Goodbye to Our Xcution) opens, Rukia and the Soul Reapers continue their battle with the Fullbringers. Ichigo has regained his powers, but it was Fullbringer leader, Kugo Ginjo, who helped him. Nothing is for free, as Ginjo wanted Ichigo's Soul Reaper powers for himself. Now, as Ichigo faces off against Ginjo, he learns more secrets about the Fullbringer leader's past. When the truth is revealed to Ichigo, he may end up feeling even more betrayed.
THE LOWDOWN: The Bleach manga begins 2013 on a melancholy note or, at least, more character dramatic note. Longtime readers, however, will get more insight into the Soul Society, its machinations, and most surprisingly, more revelations about Ichigo as a Soul Reaper, such as why he is a Soul Reaper.
I describe this volume as "melancholy" because of the way creator Tite Kubo handles the resolution of the Fullbringers arc. There is more sensitivity and depth and character than one might imagine. Bleach can often seem one-note. Sometimes, battles rage over several graphic novels, but that only makes the character drama more welcomed… and sometimes, more potent. Now, onto the Thousand-Year Blood War Arc.
POSSIBLE AUDIENCE: Readers looking for the exceptional battle manga will want Bleach.
Rating: A /10
Last Updated: August 31, 2023 - 08:12