Bleach: Volume 52 manga review
By Leroy Douresseaux
November 27, 2012 - 17:22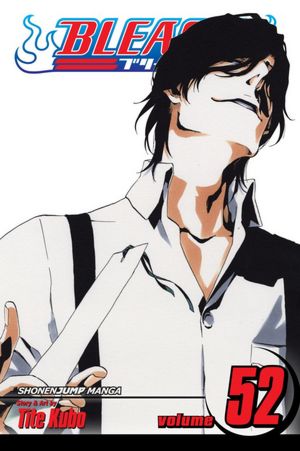 Bleach Volume 52 cover image is courtesy of barnesandnoble.com.
Rated "T" for "Teen"
Ichigo "Strawberry" Kurosaki was born with the ability to see ghosts. After his family was attacked by a malevolent lost soul called a "Hollow," Ichigo was introduced into the world of the Soul Society. Ichigo became a Soul Reaper, dedicated to protecting the innocent from tortured spirits and also to helping those spirits find peace. Ichigo defeated renegade Soul Reaper, Lord Sôsuke Aizen, stopping him and his allies from destroying the Soul Society.
Ichigo sacrificed his Soul Reaper powers in order to defeat Aizen. After that hard-fought victory, Ichigo returned to his normal life. Then, he met Kugo Ginjo and the Fullbringers, who offered him a way to regain his powers.
As Bleach, Vol. 52 (entitled End of Bond) opens, Ichigo tries to recover from Ginjo's attack. As his Soul Reaper powers merge with his new Fullbringer powers, he gets a better understanding of his training. Shukuro Tsukishima, the ex-Fullbringer, has been making startling kinds of attacks against Ichigo's friends and allies. That throws everything the Ichigo knows into turmoil.
THE LOWDOWN: December is the final month of VIZ Media's initiative, which began in the summer, to publish two Bleach graphic novels per month. Volume 52 is the first of the two December releases, and it is here that the current storyline (or direction), "The Lost Agent Arc," explodes with surprises.
I noted in an earlier review that the intrigue and mystery surrounding the Fullbringers are more exciting than any of the battles in this arc, but I was caught by surprise when everything came together. With the chapters contained in Volume 52, author Tite Kubo takes the mystery and the battles and the fiery results are as if he threw jet fuel on them. This is the best Bleach since the close of the Lord Aizen arc. Once again, Bleach shows why it's a bomb-ass manga.
POSSIBLE AUDIENCE: Readers looking for the best Shonen Jump battle manga will want Bleach.
Rating: A /10
Last Updated: August 31, 2023 - 08:12