Comics / Spotlight / Queer Comics
Bleach: Volume 51 manga review
By Leroy Douresseaux
November 3, 2012 - 10:10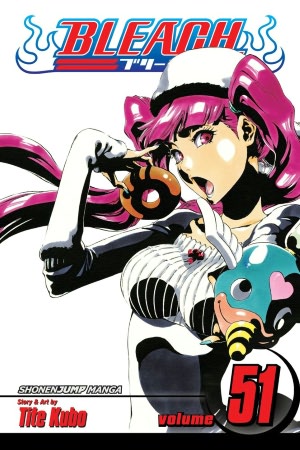 Bleach Volume 51 cover image is courtesy of barnesandnoble.com.
Rated "T" for "Teen"
Ichigo "Strawberry" Kurosaki has the ability to see ghosts. After being introduced to the Soul Society, Ichigo became a Soul Reaper, dedicated to protecting the innocent from tortured spirits and also to helping those spirits find peace. Ichigo defeated renegade Soul Reaper, Lord Sôsuke Aizen, stopping him from destroying the Soul Society.
After the defeat of Aizen, Ichigo lost his Soul Reaper powers. Ichigo met Kugo Ginjo and the Fullbringers, who offered him a way to regain his powers.
As Bleach, Vol. 51 (entitled Love me Bitterly Loth me Sweetly) opens, Ichigo takes on Jackie Tristan and her… Dirty Boots! It's the latest phase of his training in learning his Fullbringer powers. Ichigo's friend, Chad Yasutora, who is one the Fullbringers, continues his focus on Shukuro Tsukishima, who was once a Fullbringer. When Shukuro makes a move against his former colleagues, that only raises more questions. Who is his target? What does he want?
THE LOWDOWN: November is the penultimate month of VIZ Media's initiative to publish two Bleach graphic novels per month (through December 2012). Volume 51 is the second of the two November releases. Slowly, this new storyline (or direction), "The Lost Agent Arc," is coming together.
The intrigue and mystery surrounding the Fullbringers is more exciting than any of the battles. Creator Tite Kubo has made some changes to the series' graphical style. The art is cleaner and emphasizes fewer pages awash in black spaces of ink. The art focuses on the humanity of the characters rather than power and monstrosity, which I think proves that Bleach is not quite a one trick pony.
POSSIBLE AUDIENCE: Readers looking for the best Shonen Jump battle manga will find that in Bleach.
Rating: A- /10
Last Updated: December 31, 2019 - 20:28