Bleach: Volume 50 manga review
By Leroy Douresseaux
October 24, 2012 - 15:51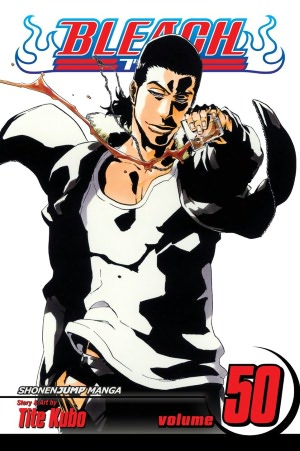 Bleach Volume 50 cover image is courtesy of barnesandnoble.com.
Rated "T" for "Teen"
High school student Ichigo "Strawberry" Kurosaki never asked for the ability to see ghosts, but he can. Rukia Kuchiki introduced him to the world of the Soul Reapers and the Soul Society. Ichigo became a Reaper, dedicated to protecting the innocent from tortured spirits and also to helping those spirits find peace. Eventually, Ichigo and his comrades stopped renegade Soul Reaper, Lord Sôsuke Aizen, and his Arrancars from destroying the Soul Society and Karakura Town.
After the defeat of Aizen, Ichigo lost his Soul Reaper powers. Ichigo met Kugo Ginjo and the Fullbringers, who offered him a way to regain his powers. As Bleach, Vol. 50 (entitled The Six Fullbringers) opens, Ichigo discovers that Chad Yasutura is among the Fullbringers. Now, Ichigo must begin his training… in a dollhouse! Just what does the little miss, Riruka Dokugamine have in store for Ichigo as he trains?
Meanwhile, the Soul Reaper healer, Orihime Inoue meets Shukuro Tsukishima. He's the man who sent someone to hurt her.
THE LOWDOWN: VIZ Media begins the penultimate month in its initiative to publish two Bleach graphic novels per month (through December 2012) with Volume 50. This is still early in "The Lost Agent Arc." Volume 49 was a change of pace, but the potboiler of intrigue has started to simmer with this volume.
I wondered how creator Tite Kubo would follow up the micro-End Times jam that was Lord Aizen's war on the Soul Society. The Fullbringers are a good start. Now, that a new story arc is beginning, regular readers can gird their loins, and new readers can get in on the fun.
POSSIBLE AUDIENCE: Readers looking for the best battle manga and fight comic books will find that and more in Bleach.
Rating: A- /10
Last Updated: January 24, 2022 - 11:00