Bleach: Volume 49 manga review
By Leroy Douresseaux
September 30, 2012 - 17:57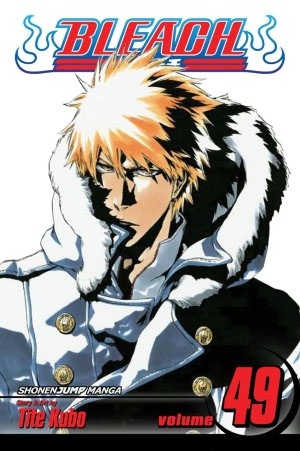 Bleach Volume 49 cover image is courtesy of barnesandnoble.com.
Rated "T" for "Teen"
High school student Ichigo "Strawberry" Kurosaki met Rukia Kuchiki, and she introduced him to the world of the Soul Reapers and the Soul Society. Ichigo was born with the ability to see ghosts. He became a Reaper, dedicated to protecting the innocent from tortured spirits and also to helping those spirits find peace. Eventually, Ichigo and his comrades stopped renegade Soul Reaper, Lord Sôsuke Aizen, and his Arrancars from destroying the Soul Society and Karakura Town.
As Bleach, Vol. 49 (entitled The Lost Agent) opens, Ichigo's life has returned to normal, but he no longer has his Soul Reaper powers. Now, a mysterious stranger, Kugo Ginjo, is following him. Who is Ginjo? What does he want and what are those amazing powers he possesses. Meanwhile, some of Ichigo's friends find themselves in danger.
THE LOWDOWN: VIZ Media continues its schedule of publishing two Bleach graphic novels per month (through December 2012). Volume 49 is the second of two volumes released in October, and also marks the beginning of the "The Lost Agent Arc." This is a change of pace volume, although there are some supernatural elements. It's a chance to see more of the Karakura Town cast, which I've never seen much because I was late to this series.
There is no reason to be put off by the lack of battle in this battle manga. The new characters offer mystery, intrigue, and of course danger. Bleach is still explosive even when it's quiet.
POSSIBLE AUDIENCE: Readers looking for the best battle manga and fight comic books will find that and more in Bleach.
Rating: A- /10
Last Updated: August 31, 2023 - 08:12