Bleach: Volume 46 manga review
By Leroy Douresseaux
August 31, 2012 - 18:49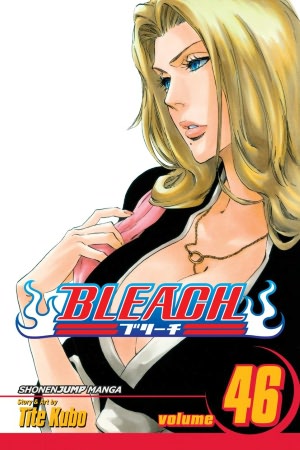 Bleach Volume 46 cover image is courtesy of barnesandnoble.com.
Rated "T" for "Teen"
When he met Rukia Kuchiki, high school student Ichigo "Strawberry" Kurosaki's life changed forever. She introduced him to the world of the Soul Reapers and the Soul Society. Now a Reaper himself, Ichigo is dedicated to protecting the innocent from tortured spirits and also to helping those spirits find peace.
As Bleach, Vol. 46 (entitled Back from Blind) opens, it's finally here: the Tite Kubo thrilla in Bleach Manila. The renegade Soul Reaper, Lord Sôsuke Aizen, battles Ichigo. It is not only a battle of swords and powers, but also a battle of words. And Aizen's got things to say to Ichigo about the young Soul Reaper's past.
Who is Isshin Kurosaki and why has he intervened in the battle on Ichigo's side? Plus, Ichigo battles Gin Ichimaru, he of the eight mile-long sword.
THE LOWDOWN: Currently, VIZ Media is publishing the Bleach graphic novels twice a month, a schedule that began in June and will continue into December 2012. Since Vol. 40, the story has been pretty much the same thing – straight battle manga with occasional flashbacks. There are lots of duels and skirmishes, and dialogues and conversations, as well as threats and boasts, abound.
As Martha Stewart would say if she read manga, it's a good thing. This compressed schedule is an opportunity to read lots of Bleach and to see why this fight comic is among the elite battle manga publications on the planet.
POSSIBLE AUDIENCE: Readers looking for action comics will find one in Bleach.
Rating: A /10
Last Updated: January 24, 2022 - 11:00