Bleach: Volume 45 manga review
By Leroy Douresseaux
August 6, 2012 - 16:12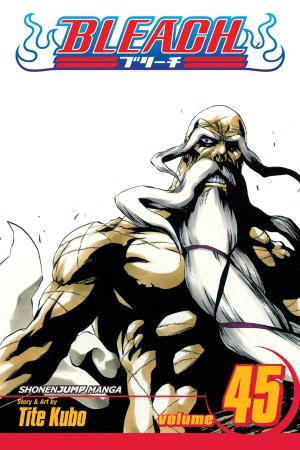 Bleach Volume 45 cover image is courtesy of Anime Castle Books.
Rated "T" for "Teen"
Ichigo "Strawberry" Kurosaki never asked for the ability to see ghosts, a gift with which he was born. Then a "Hollow," a kind of malevolent lost soul, attacked his family. Ichigo met Rukia Kuchiki and was introduced to the world of the Soul Reapers and the Soul Society. Now a Reaper himself, Ichigo is dedicated to protecting the innocent from tortured spirits, but also to helping those spirits find peace.
As Bleach, Vol. 45 (entitled The Burnout Inferno) opens, the Visoreds and the captains of the Thirteen Court Guard Companies battle the renegade Soul Reaper, Lord Sôsuke Aizen, over Karakura Town. Shinji Hirako launches the first attack, but even giving everything they've got, can they defeat the über-powerful Aizen. That's why Genryusai (General) Shigekuni Yamamoto, the centuries old Soul Reaper, steps in, while Ichigo watches from the sidelines.
THE LOWDOWN: Because VIZ Media is publishing the Bleach manga twice a month, a schedule that began in June and will continue into December 2012, Bleach Vol. 44 has a buddy. It's Bleach Vol. 45. At this point in the series, this (hopefully) final battle with Lord Aizen makes having two Bleach graphic novels a month a very good thing.
Bleach is not the great fantasy war drama that Naruto is. The strife in Naruto comes from a history of character conflicts, and it is motivation that drives the action. Bleach has character drama, motivation, and conflict, but the action, specifically the action violence, is the focus. Creator Tite Kubo stages fights, battles, character conflicts, etc. as if they were grand operatic melodramas. The story is style, costumes, staging, and posing; this is about soliloquies and terse dialogue exchanged between verbal duelists. Graphic design is as important as composition. Why have only blood splatter when India ink can create a geyser of life's precious fluid?
POSSIBLE AUDIENCE: Those who want the best battle manga and best graphic novels will find an elite treat in Bleach.
Rating: A- /10
Last Updated: February 5, 2023 - 09:06