Bleach: Volume 43 manga review
By Leroy Douresseaux
July 3, 2012 - 15:49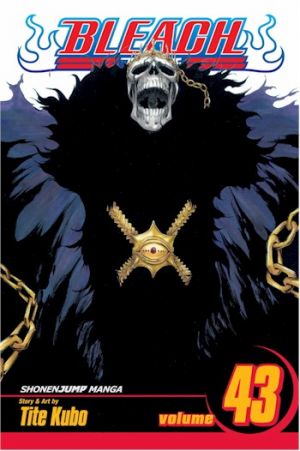 Bleach Volume 43 cover image is courtesy of Anime Castle Books.
Rated "T" for "Teen"
Ichigo "Strawberry" Kurosaki was born with the ability to see ghosts. He never asked for this ability, but then, a kind of malevolent lost soul called a "Hollow," attacked his family. Ichigo met Rukia Kuchiki who brought him into the world of the Soul Reapers and the Soul Society. Now a Reaper himself, Ichigo is dedicated to protecting the innocent from such tortured souls and also helping those spirits find peace.
As Bleach, Vol. 43 (entitled Kingdom of Hollows) opens, the renegade Soul Reaper, Lord Sôsuke Aizen, is back. As he watches his Espadas battle the Soul Reaper captains over Karakura Town, what is he thinking? What is he plotting?
Aizen's ally, Barragan Luisenbarn, the God of Hueco Mundo, reveals the depth of his awful powers in his battle with Captain Hachigen Ushoda. Meanwhile, Soul Reaper Captain Love Aikawa takes on the Espadas Coyote Stark and Lilinette Gingerback. The wolves will howl for this battle.
THE LOWDOWN: VIZ Media began publishing the Bleach manga twice a month beginning in June and will continue to do so into December 2012. That's two graphic novels every month during a particularly intense run in the series. You might need a scorecard to keep up with the different spells and battle configurations the combatants unleash on one another, or you may have to create your own. The biggest treat in Vol. 43, a volume full of treats, is the presence of Lord Aizen, the traitorous Soul Reaper. He is so cool and handsome, which makes his murderous streak all the scarier.
POSSIBLE AUDIENCE: Those who want the best battle manga will find an elite treat in Bleach.
Rating: A- /10
Last Updated: February 5, 2023 - 09:06