Bleach: Volume 40
By Leroy Douresseaux
June 2, 2012 - 13:16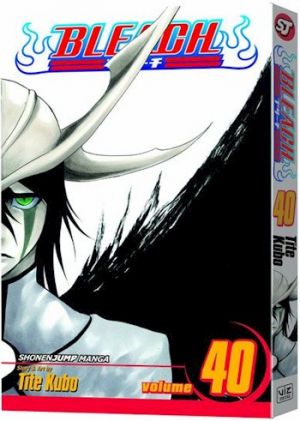 Bleach Volume 40 3D cover image is courtesy of Anime Castle Books.
Rated "T" for "Teen"
Ichigo "Strawberry" Kurosaki has the ability to see ghosts, a gift for which he neither asked nor wanted. After a "Hollow," a malevolent lost soul, attacks his family, Ichigo is introduced into the world of the Soul Reapers and the Soul Society. Now a Reaper himself, he protects the innocent and helps tortured spirits find peace.
Bleach, Vol. 40 (entitled The Lust) is all about the battle as Ichigo takes on Ulquiorra, the powerful Espada. Ichigo's goal is to save Orihime Inoue, and Ulquiorra insists that Ichigo can only do it over his dead body. Orihime and Soul Reaper Uryû Ishida are really just spectators, as is the Espada, Yammy. Ulquiorra's Espada's powers are unbelievable, and Ichigo will have to use his Hollow powers. Will the darkness overwhelm him?
THE LOWDOWN: Finally, it is here. Not only is the latest volume of the Bleach manga a straight battle manga; it also features Ichigo in battle mode. I've been whining for this for awhile now, and I'm not disappointed. In fact, this 40th volume of Bleach offers more than just the usual visual theatrics. Creator Tite Kubo takes the graphical madness to another level. The brushwork goes wild and the inking turns the art into cascades of black drapery. A few pages depict Ulquiorra in impressionistic terms as a beautiful dark and sinister wraith. And even bleach can't take out all that black.
POSSIBLE AUDIENCE: Those who want the best of Shonen Jump battle manga will want Bleach.
Rating: A- /10
Last Updated: August 31, 2023 - 08:12