Bleach: Volume 38
By Leroy Douresseaux
February 7, 2012 - 14:35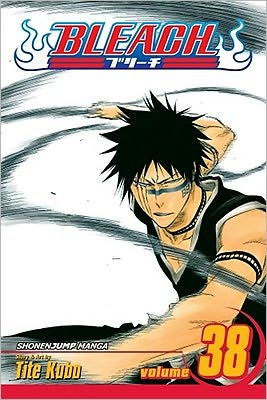 Bleach Volume 38 cover image is courtesy of barnesandnoble.com.
Rated "T" for "Teen"
The ability to see ghosts is not a gift for which Ichigo "Strawberry" Kurosaki asked. When a "Hollow," a malevolent lost soul, attacked his family, Ichigo was introduced into the world of the Soul Reapers and the Soul Society. Now a Reaper, he protects the innocent and cleanses malevolent lost souls, helping them find peace.
As Bleach, Vol. 38 (entitled Fear for Fight) begins, Soul Reaper assistant captains battle the minions of Lord Sôsuke Aizen. The goal is to stop an invasion of Karakura Town (Ichigo's hometown, which is connected to the Soul Society). When one of the assistant captains falls in battle, will Karakura Town fall, also?
THE LOWDOWN: Like the previous volume, the 38th volume of Bleach is a straight battle manga. This is not uncommon of Bleach graphic novels, as some of them are wall to wall fights, which is fun. However, the tense character drama and test of wills are sorely missed in this volume, and Ichigo does not appear this time. This is not a volume that really shows off all that the Bleach manga does well.
POSSIBLE AUDIENCE: Those who want the best of Shonen Jump will want Bleach.
B+
Last Updated: August 31, 2023 - 08:12